Christmas at SOLAS Portarlington: Santa, Craft Market & New Antique Shop
The festive season is in full swing at SOLAS, with 200 Christmas trees arriving just in time to kick off the Christmas countdown. As the Toy Show approaches, only a week away, the excitement is palpable. Keep an eye out in the food court for special essential 'Toy Show treat' boxes!
Building upon last year's success, Santa is back at SOLAS, and this time, the elves have been hard at work creating an even more magical winter wonderland. New additions, such as the option to have your photo taken with Santa, promise to make your visit unforgettable. The SOLAS shop sets the gold standard for Christmas venues with its beautifully laid-out Christmas display and an extensive range of decorations and gifts.
Events @ SOLAS
Saturday:
10 am to 2 pm: The weekly Farmers Market, a haven for the finest local farm produce and crafts.
Sunday:
12 pm: Winter gardening masterclass: Over Wintering Vegetables – Learn all the basic principles of how to grow vegetables in your garden over winter with our expert Horticulturist Anna. (FREE event)
CHRISTMAS @ SOLAS
SOLAS Santa Experience
From Friday 1 December to Saturday 23 December, directly from the North Pole, Santa will be bringing his 'Green (Plastic-Free) Christmas' Experience to SOLAS. Tickets cost €10 each and include a gift and reindeer food. Book online.
For Group bookings for schools or clubs, contact our Georgina at events@thegardenshop.ie
Christmas & Vintage Markets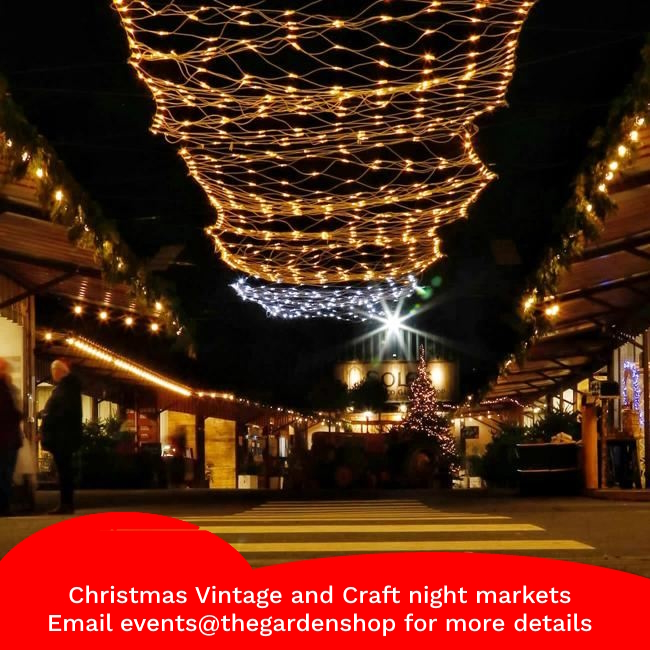 Throughout December, we will be hosting Craft and Vintage markets every Sunday and Thursday evening, with live music to get you in the festive spirit. Ideal for that perfect unique, handmade gift. Contact Georgina at events@thegardenshop.ie or see our Events Page.
Other Events
Food @ SOLAS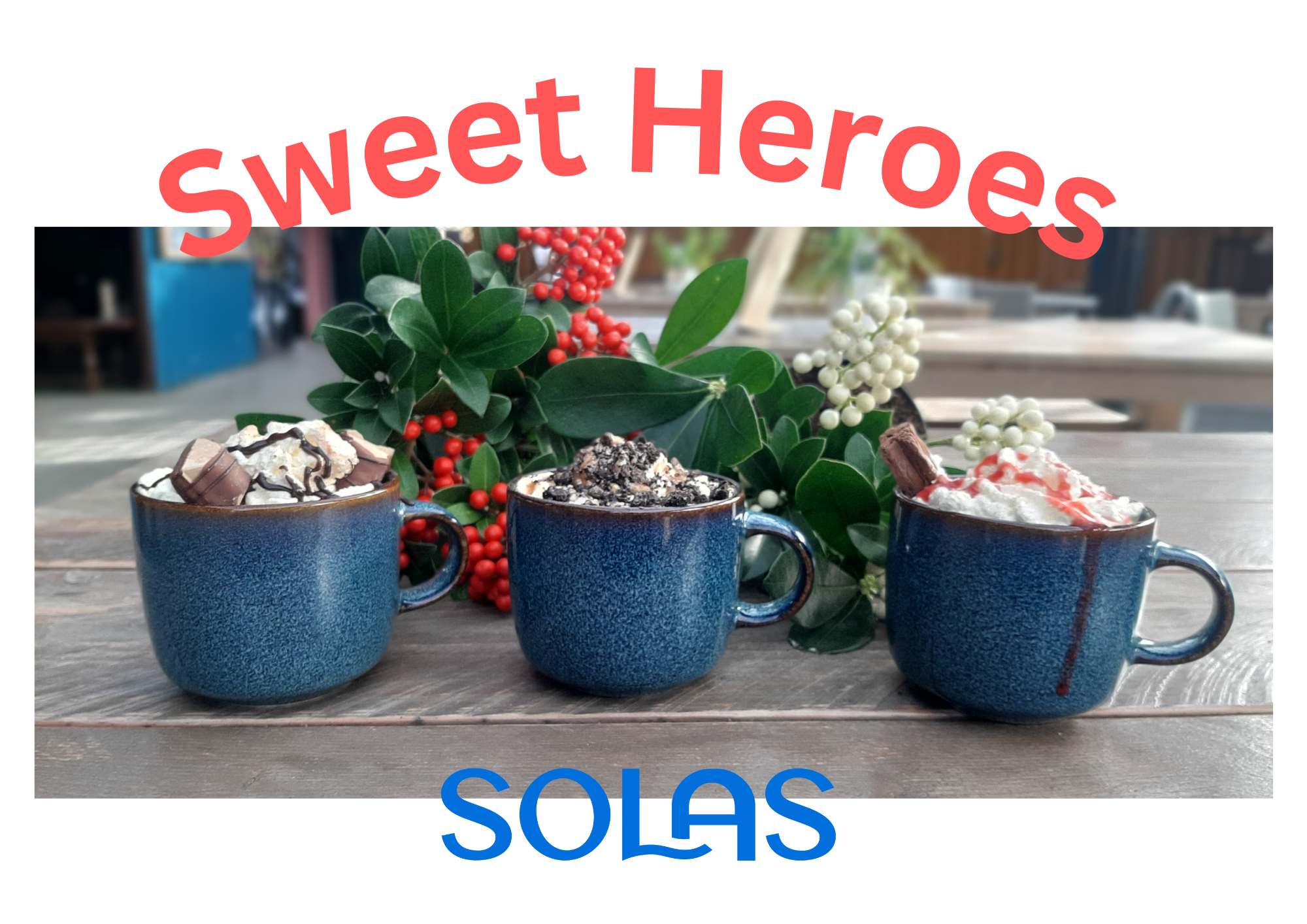 We're excited to welcome our winter sweet heroes: Caramel Oreo hot chocolate, Kinder Bueno hot chocolate, and Forest hot chocolate. Our staff's favorites, these new recipes are sure to delight.
And because we love celebrations at Solas, this weekend for International Men's Day, we have a special Beef steak sandwich served with chips and spicy mayo dip and Spicy chicken O'mimo Pizza. Come and try them all in our heated Food courtyard open Monday–Friday 10-4 pm and weekends from 10-5 pm in our heated Café.
Plant of the Week: Christmas Trees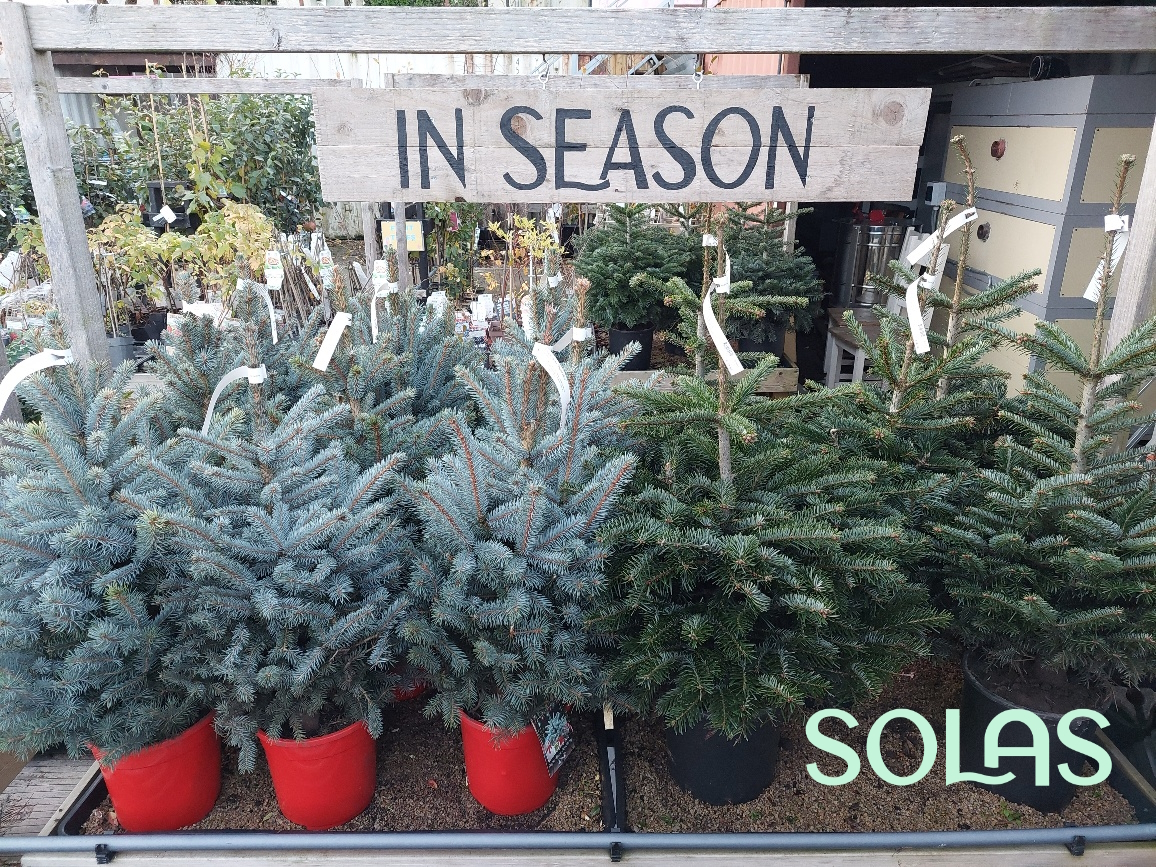 Living Christmas trees. A huge range of trees from 5ft to 9ft tall is available. Our Nordmann fir has soft, shed-resistant needles for a traditional look and is great for allergy sufferers. Perhaps the silvery tones of Blue Spruce suit your theme, with its stiff branches perfect for hanging ornaments and the sentimental smell of pine. For those with less space who still want the real tree vibe, the smaller conical Spruce is perfect.
Product of the Week: Christmas Decorations
Ho ho ho! Our little elves have been busy, and we're excited to have Christmas decorations here at Solas again. We are offering up to 40% off a range of Christmas lights, including a variety of sparkly, fluffy, wooden, metal, and recycled baubles, sure to match the colors of all your themes. Dress up your fireplace and doorways with our selection of garlands & wreaths. We hope to help you make Christmas special.
SOLAS Weather

The weekend weather forecast is mainly dry and relatively mild, with Saturday being the best of the weather. SOLAS's newly upgraded Food court includes 11 snugs, each with its own heaters, along with a fully heated main seating area. It's always snug @ SOLAS.
Join us for a special winter weekend at SOLAS Eco Garden Centre, situated in Portarlington, Co. Laois R32 RPX8. We extend a warm invitation to visit us daily from 10 am to 6 pm. We can't wait to welcome you!