Reusable take-away packaging has significant potential to reduce carbon footprint vs single-use options
Reusable take-away packaging could present a compelling climate case over single-use alternatives if return and washing systems are properly implemented and optimised, according to a new study today from Zero Waste Europe, Reloop, and TOMRA.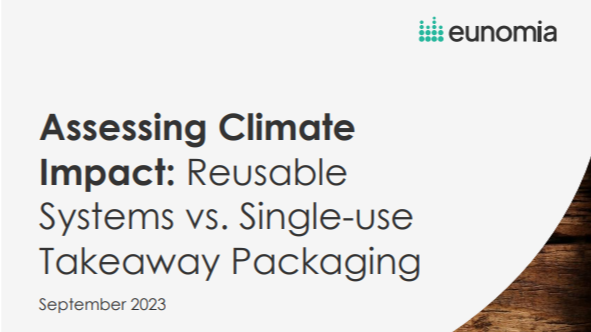 In nearly all types of packaging examined it found that reusable packaging can significantly reduce greenhouse gas (GHG) emissions compared to respective single-use plastic or paper containers.
The study, "Assessing Climate Impact: Reusable systems vs. Single-Use Takeaway Packaging" was produced by Eunomia Research & Consulting and looked at the GHG emissions associated across a wide range of common takeaway packaging, including cups, burger boxes, bowls, pizza boxes, and sushi containers, comparing single-use to reusable packaging in an optimised reuse system.
The research found that the adoption of reusable containers within a well-designed reuse system has potential to reduce GHG emissions for most packaging options. The only exception to this was pizza boxes which will likely need further innovations in design to fully unlock the benefits of reuse. For example even a 20% reduction in the weight of a reusable pizza box – equivalent to 85 grams – could tip the scales in favour of reuse.
The study revealed each container's breakeven point, the point at which reuse matches the carbon footprint of single-use, for greenhouse gas emissions within a robust return system. It found that returning a bowl thirteen times or a coffee cup just six times proved sufficient to break even, with any further returns becoming a net positive in terms of carbon emissions avoided.
Set in the "near-future" of 2030, the report envisions reusable packaging reaching a steady state whereby it can be collected, washed, and redistributed through a centralised means.
Building upon the recent evaluation of life cycle assessments conducted by Zero Waste Europe and Reloop, this study urges policymakers to fight for a cleaner 2030, particularly as discussions commence shortly on the forthcoming reuse targets within the Packaging and Packaging Waste Regulations (PPWR).
Aline Maigret, Head of Policy at Zero Waste Europe, emphasised: "Focusing on the potential for reducing GHG emissions, this study reiterates the relevance of switching from single-use packaging to reusable ones. As institutional negotiators are gearing up for the negotiations of the packaging rules in the EU, we count on them to acknowledge this potential by mandating ambitious reuse targets."
Clarissa Morawski of Reloop stated: "Unlocking the potential of smart reuse lies in crafting systems that harness our collective design experience, optimising processes from design to deposit return, embracing reverse logistics, and perfecting the art of washing. As we pave the way for the business of the future, let's ensure policies are in place to nurture and champion this transformative journey towards sustainability and innovation."
Andy Grant, Technical Director at Eunomia Research & Consulting, said: "The extent to which carbon benefits could be realised differs by each container type, with the strongest case for reusable cups which we calculate could break even with single-use after only six returns in an optimised return system. There is still work to do for larger and heavier containers such as pizza boxes which as things stand will be difficult to justify for reuse, and will require more innovations in design to find their place."
Geir Sæther, SVP Circular Economy, Head of TOMRA Reuse, added: «Based on our vision Leading the Resource Revolution, TOMRA feels obligated to contribute with attractive and efficient solutions for reusable take-away packaging. Mainly based on the solutions' potential to reduce GHG emissions, but also due to proven effects on litter reduction and contribution to a circular economy. These are all positive results of pushing the targeted packaging application up the waste hierarchy. Understanding and defining key requirements for well-working systems based on reusable packaging has been key to TOMRA, as implementing a badly designed reuse system could have a negative environmental impact. Winning Aarhus municipality's tender to roll out the world's first reuse system of its kind is a great opportunity for us."
The outcomes of this study hold great promise for guiding the implementation of effective reusable systems, emphasising the potential for emissions reduction and the significance of meticulous system design. The researchers call for large-scale trials to further validate and refine these findings.
– Link to Life Cycle Assessments study, published 10th August:  https://zerowasteeurope.eu/library/unveiling-the-complexities-exploring-lcas-of-reusable-packaging-in-the-take-away-sector/
About Reloop
Reloop is an international nonprofit organisation, whose vision is a world free of waste, where natural resources remain resources. Leading the global transition to a circular economy, Reloop provides evidence-based research and analysis to governments, industry and NGOs. (www.reloopplatform.org)
About Zero Waste Europe 
Zero Waste Europe is a European network of communities, local leaders, experts, and change agents working towards the elimination of waste in our society. Advocating for sustainable systems and the redesign of mankind's relationship with resources, they accelerate a just transition towards zero waste for the benefit of people and the planet. www.zerowasteeurope.eu
About TOMRA
TOMRA was founded in 1972, based on the design, manufacturing and sale of reverse vending machines (RVMs) for automated collection of used beverage containers. Today TOMRA provides solutions that enable the circular economy with advanced collection and sorting systems, and food processing by employing sensor-based sorting and grading technology.
Altogether TOMRA has approximately 105,000 installations in over 100 markets worldwide and had total revenues of about 12 billion NOK in 2022. TOMRA's geographic footprint covers all continents, and the solutions provided are increasingly relevant for serving sustainable societies.
About Eunomia Research and & Consulting 
Eunomia is an independent sustainability consultancy driven by a genuine passion to make a positive change to the clients we work with and the communities they operate in.
Our consultants are experts in the field, deeply immersed in the subject with the technical knowledge and skill to offer clients innovative, clear and practical recommendations.
We are committed to finding solutions to better protect the planet, while supporting the wider aims and needs of our clients.
For more information about Eunomia, please visit www.eunomia.co.uk