Ice Cream, Pizza, Play and French Festival at SOLAS
SOLAS Eco Garden Centre, Portarlington, has added a vibrant touch to its driveway with a range of nine unique 'Eco-flags' that represent the values of biodiversity, sustainable energy, recycling, and more. These colourful flags will grace the entrance throughout the summer season, symbolizing SOLAS' commitment to environmental consciousness.
SOLAS has recently announced its "July for Kids" event schedule, featuring engaging activities such as pizza making, decoupage art, and gardening workshops. These hands-on and educational events provide great value and are sure to captivate young minds.
However, the spotlight at SOLAS remains firmly on the upcoming "French Festival," scheduled for the weekend of July 15th-16th. This festival, a true highlight of the year, celebrates Portarlington's rich French heritage with a delightful array of events, including face painting, puppet shows, delectable food, and vibrant dance performances.
Events @ SOLAS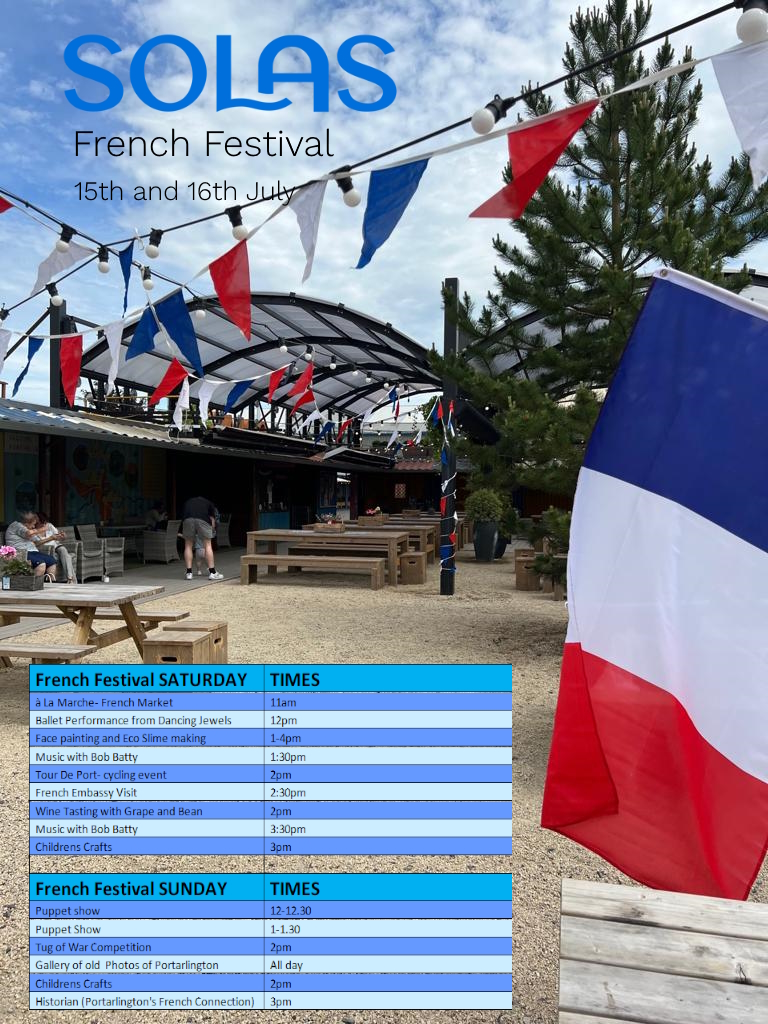 Friday, 6th July, 11 am
Friday, 7th July, 11 am: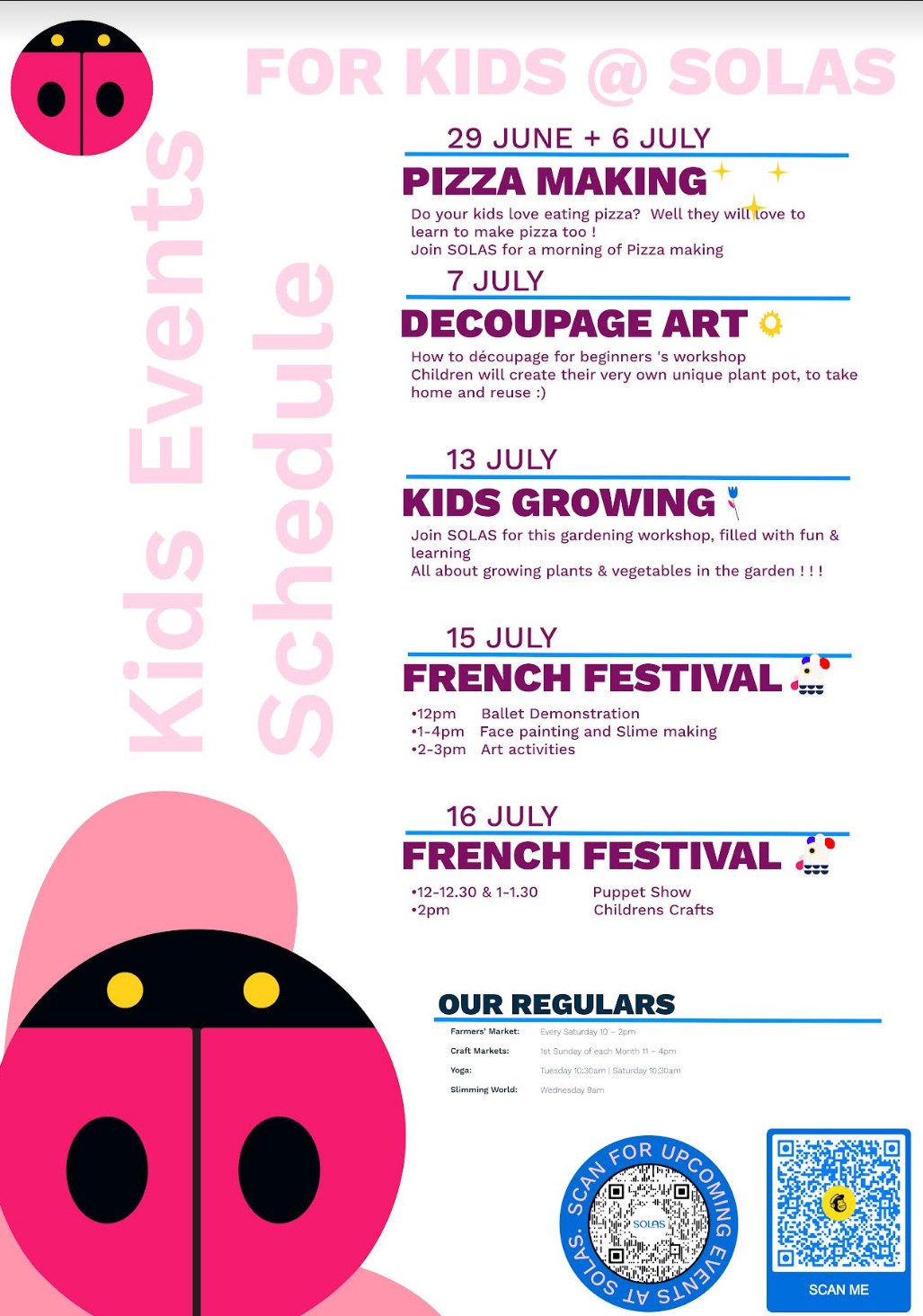 Thursday, 13th July, 12 pm:
Saturday, 15th July (French Festival):
The French Market 10-2pm,
2pm Wine Tasting
Also Ballet, Face painting, Live Music, Cycle the 'Tour de Port', slime making and face painting
Sunday, 16th July (French Festival):
Immerse yourself in captivating puppet shows from 12 pm to 12.30 pm and 1 pm to 1.30 pm. Join the Tug of War Competition at 2 pm. Take part in children's crafts at 2 pm. Learn about the history of Portarlington's French connection at 3 pm.
Food @ SOLAS
In celebration of National Ice Cream Month, SOLAS is offering a special treat of warm Belgian waffles served with cream and poached pear. Indulge in homemade cakes, fresh pastries, and delectable hot specials available in the covered and heated food court area.
SOLAS – PLANTS
Discover the beauty of Dahlia herbaceous perennials. With their multitude of colors and wide range of flower shapes, they are perfect for containers, borders, cottage gardens, and flower beds. These delightful plants bloom from July to October and can be paired beautifully with grasses, verbena, and lavender.
SOLAS – SHOP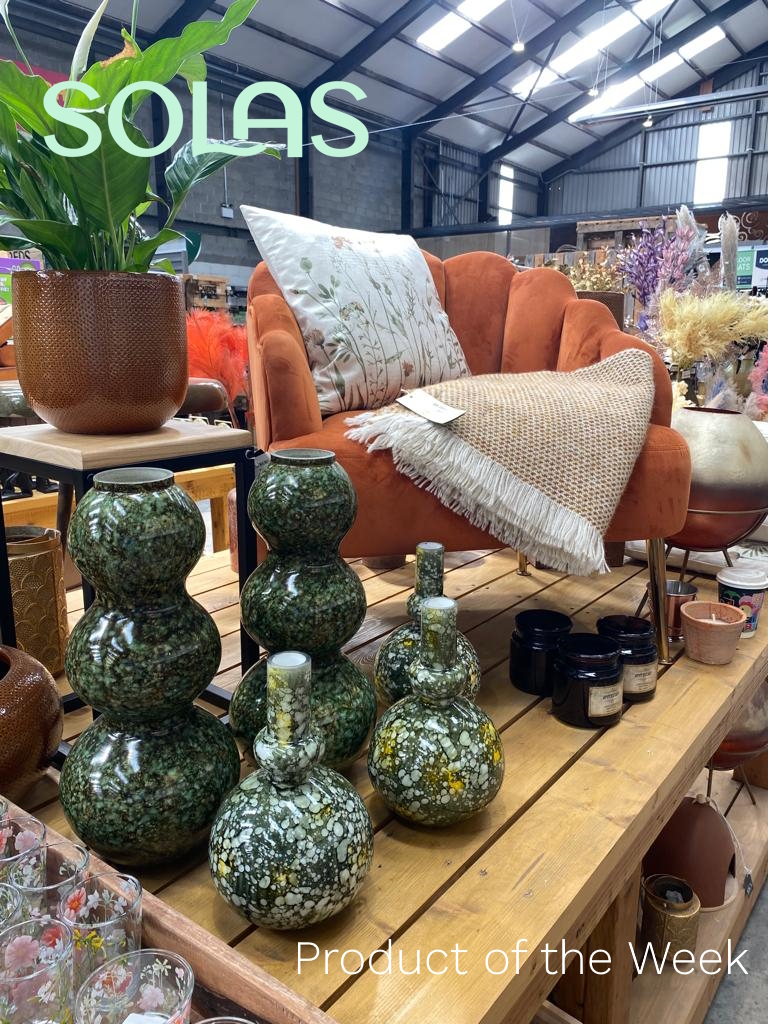 Explore the homeware section of SOLAS Eco Garden Shop and find stylish and unique pieces that will brighten up your home.
Join us for a special summer weekend at SOLAS Eco Garden Centre, located in Portarlington, Co. Laois R32 RPX8. We are open daily from 10 am to 6 pm. We look forward to welcoming you soon!