Primary Science Fait gets underway at BT Young Scientist & Technology Exibition 2023
The search for the BT Young Scientist & Technologist(s) 2023 continues in earnest at the second day of the BT Young Scientist & Technology Exhibition (BTYSTE), with judging scheduled throughout the day. Yesterday, more than 1,100 students from 212 schools across Ireland set up their projects and made their first pitches to the more than 80 judges, who are tasked with choosing this year's winner(s).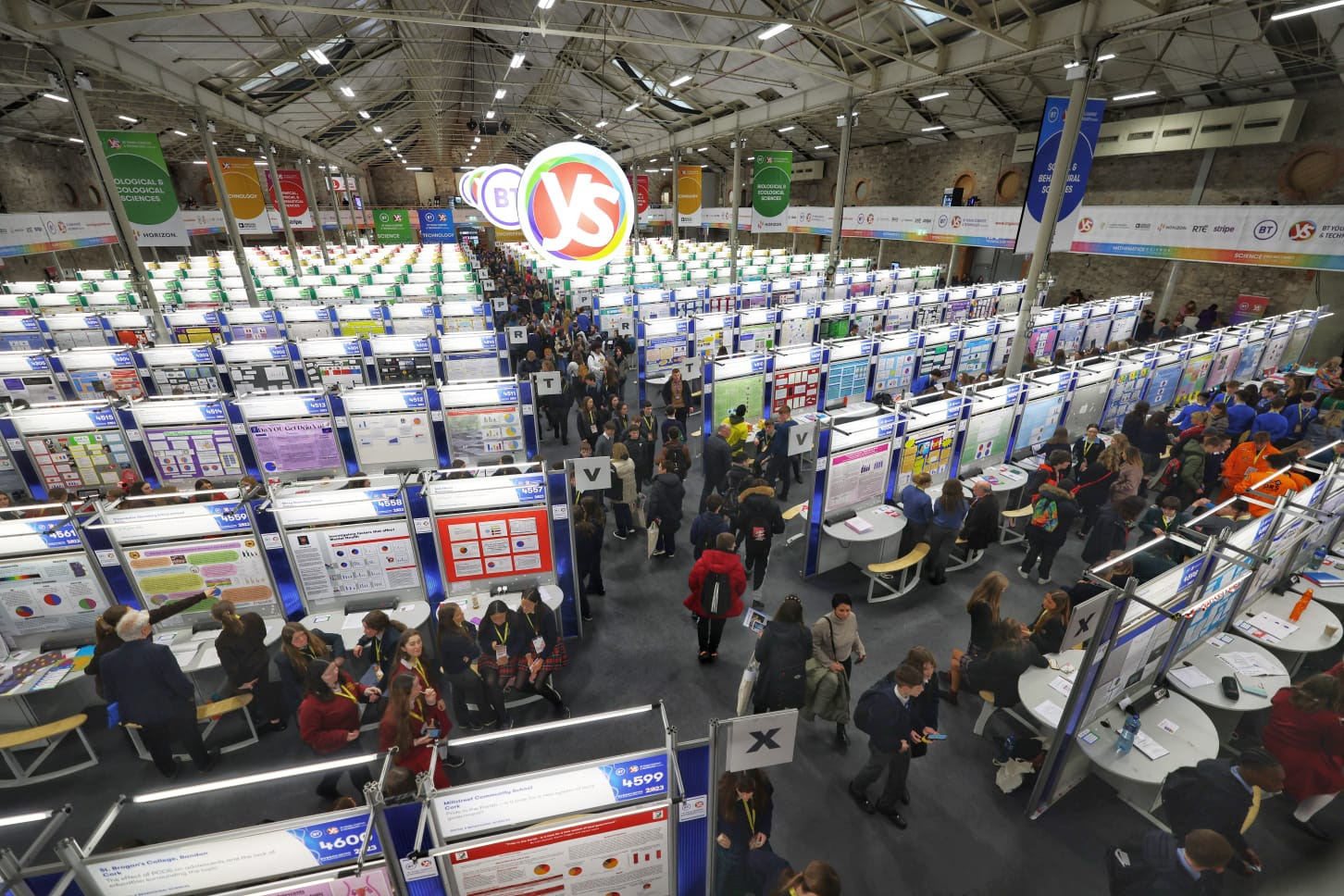 The Primary Science Fair, which has been an exciting part of the BT Young Scientist & Technology Exhibition for over 15 years, also opened today. It gives primary school students who have an interest in science and technology the opportunity to be an integral part of one of the world's leading and long-running school science exhibitions. This year students from more than 30 primary schools are presenting projects across a variety of topics, including environmental awareness and care, and living things. The Primary Science fair continues for a second day tomorrow.
The doors of the RDS will also be open to the public today for the first time since 2020. They'll have the opportunity to witness the innovation and creativity on display by the students through their projects, many of which tackle everyday issues we face in our lives. There's high demand to attend this year's exhibition, with tickets now SOLD OUT until 1pm today, while there are limited tickets available for tomorrow.
Speaking on day two of the event Mari Cahalane, Head of the BT Young Scientist & Technology Exhibition said "It's fantastic to see members of the public back in the RDS this year, after two years of a virtual exhibition. It is a brilliant opportunity for the students to bring their ideas and innovation not only to the judges, but to the wider population. We have a stellar line-up of events for day two of the exhibition, including spectacular shows from our special acts, which are sure to entertain and inspire in equal measure!"
You won't want to miss the rest of the brilliant line up of events scheduled for today including:
Primary Science Fair
Strong Women Science
The Superhero Scientist
Freestyle Physics
This and so much more is available today at the BTYSTE 2023! Full schedule of events and instructions on how to access are available here.
Tickets for the BT Young Scientist & Technology Exhibition in the RDS are available here
BT Young Scientist & Technology Exhibition
The BT Young Scientist & Technology Exhibition is much more than a competition – it is the experience of a lifetime for the students and teachers who take part. Designed to raise schools' engagement in the critical subjects of science, technology, engineering, and maths (STEM), the Exhibition calls upon students aged 12-19 years from all over the island of Ireland to showcase innovative science and technology project. In 2022, the Exhibition reached almost 8 million visitors around the world through its virtual portal. The BT Young Scientist & Technology Exhibition is supported by several valued partners including the Department of Education, Analog Devices, Horizon, Stripe, and RTE. Learn more at www.btyoungscientist.com
See Wednesday's video highlights here