Investment in equine skills simulators announced
Minister of State at the Department of Agriculture, Food and the Marine with special responsibility for Farm Safety, Martin Heydon T.D. has announced investment in three equestrian training simulators at Teagasc Kildalton College at Piltown, County Kilkenny.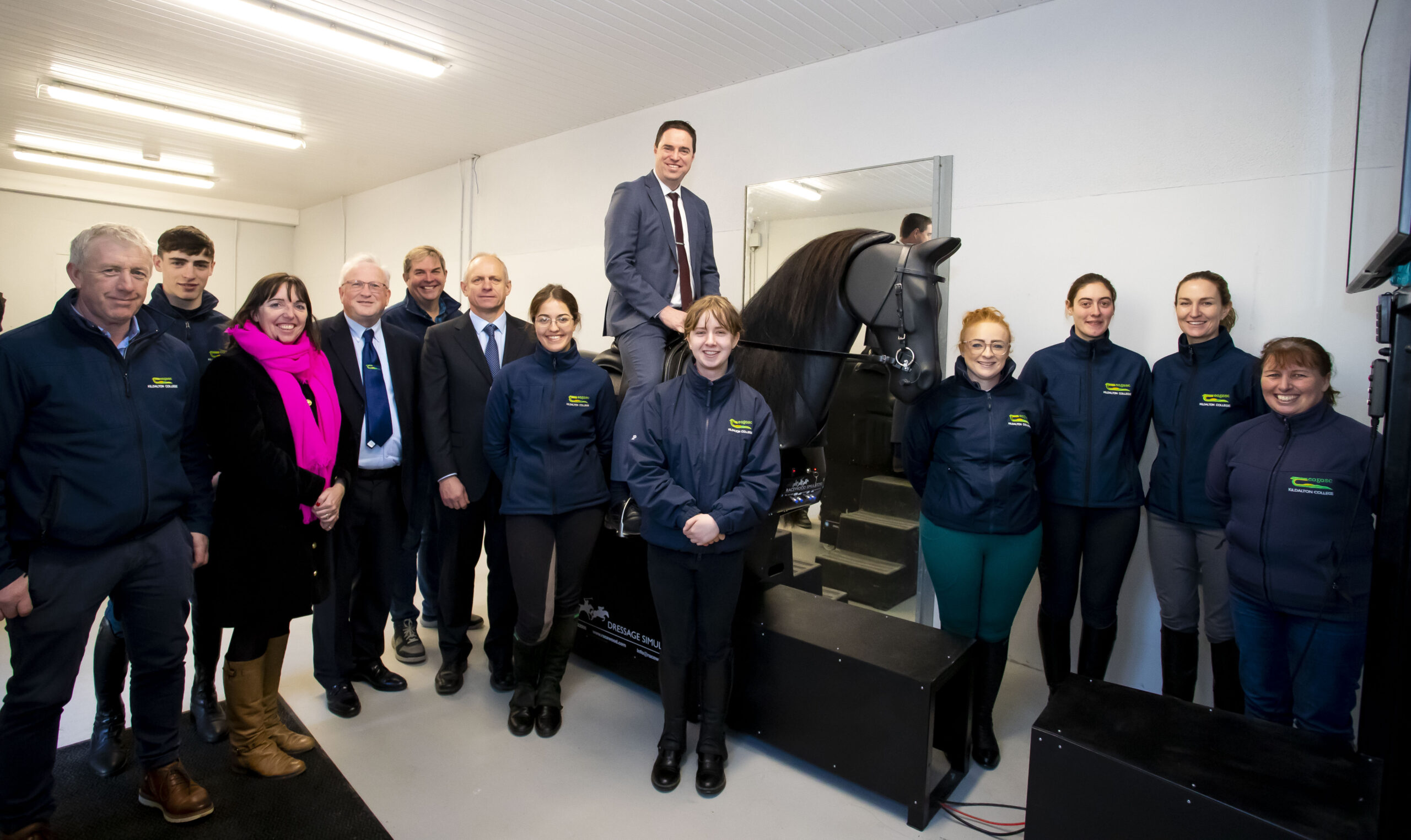 The simulators will assist students in the development of safe equestrian skills for riding and training horses. Two of the simulators are targeted towards riding skills on the flat, while the third is for jumping training.
Speaking at the launch of the simulators, Minister Heydon said: "Our equine industries are something we can be very proud of. They make a huge contribution to rural communities and are an intrinsic part of our culture and heritage. However, there are unique risks when it comes to working with horses. These simulators represent a significant commitment by my Department and Teagasc to ensuring that people in the equine industry get the best opportunity to develop their skills early in their careers, while also catering for more experienced riders who want to improve their skills."
A survey into equine related injuries shows that over two thirds of equine related injuries occur due to falling from a horse. The early development of safe riding skills is a key action to reduce the incidence of injuries in the equine industry, particularly for those who break and ride horses in training.
Minister Heydon added:  "Where possible we must minimise the risk of injury and these equine simulators will allow for training in a safe environment before students move to undergoing instruction with horses in a practical setting. Safety must be the priority for every sector of Irish agriculture."
Teagasc Head of Education, Dr Anne Marie Butler thanked Minister Heydon and his Department for providing funding to procure the simulators. Dr Butler said: "It is fantastic to acquire these Equestrian Simulators which will greatly enhance our teaching and student learning and will improve both safety and equestrian skills.  Our students and staff are really excited to have access to these simulators."
Kildalton College Principal, Tim Ashmore stated that Equitation and Stud Management training is an expanding offering at Kildalton College, with safety training being an integral component of courses.
Rosemary Gaffney, Lead Educator of Equestrian training at Kildalton College said that use of the simulators will improve student safety by assisting to develop both riding ability and core strength for riding.   Use of riding simulators will assist in producing horses with consistent training for the sales industry both at home and abroad. The jumping simulator will give students an initial proficiency in riding and jumping, without a safety risk.
Teagasc Senior Health and Safety Specialist, Dr John McNamara said that plans are in place for use of the simulators by horse sector groups such as pony clubs, coaching and research related to riding techniques.   In this way the simulators will be a resource to improve safety standards in the equitation sector.
Teagasc Kildalton College Equitation unit
The Teagasc Kildalton College Equitation unit provides training on a 2-year programme QQI Level 5 and Level 6 which focuses on equine skills training. Currently there are over 65 students engaged in equine training at the college. The aim of the course is to provide the student with business and equine related knowledge/skills required for a range of job opportunities within the horse industry, both in Ireland and abroad. Career opportunities include yard and stud farm management, sales and marketing of equine related products, riding centres, competition yards and jobs in the recreation, leisure and tourism sectors. Students can specialise in either Stud Management (huge opportunities in Ireland or abroad) or Equitation as part of the course. All students qualify as Young Trained Farmers (receiving their Green Certificate).  Level 6 Equitation students are certified to teach in any Association of Irish Riding Schools on completion of the course.  We also encourage our equitation students to take their BHS British Horse Society exams whilst they are at Kildalton, these are internationally recognised teaching exams and the students can end up qualified to teach all over the world.
In addition to undertaking a Farm Health and Safety module, the equitation skills delivered in training include: Loose Schooling; Lunging; Long Reining; Young Horse Management; Breeding; Producing horses for sale; Riding Horses – Dressage, Show Jumping and Cross Country; Breaking & training young horses.
Students, in addition to completing a Farm Health and Safety also study the following: Business Management, Stud Management, Equine Nutrition, Horse Health, and Introduction to Coaching, Young Horse Evaluation, Equine Nutrition, Horse Health and First Aid.
The Kildalton Equitation Unit also hosts training events and demonstrations in association with Teagasc Equine Specialist Advisors.