TG4 to broadcast the BFI's See Yourself on Screen Challenge for a second year calling on 4-18 year olds to create TV shows for the future
The BFI has today unveiled their second See Yourself On Screen Challenge (SYOS), calling on young people aged 4-18 from across the UK and Ireland to create their own idea for a mini-TV show for the future, with winners seeing their show made with the help of a team of professionals and premiere on national television.  Backed by TV personality and star judge Konnie Huq, winners will be paired with a celebrity mentor per channel who will help them bring their idea to life, before their short airs on a broadcaster later this year. TG4 is the Irish broadcaster participating in the iniative. Entries are now open at www.bfi.org.uk/seeyourselfonscreen.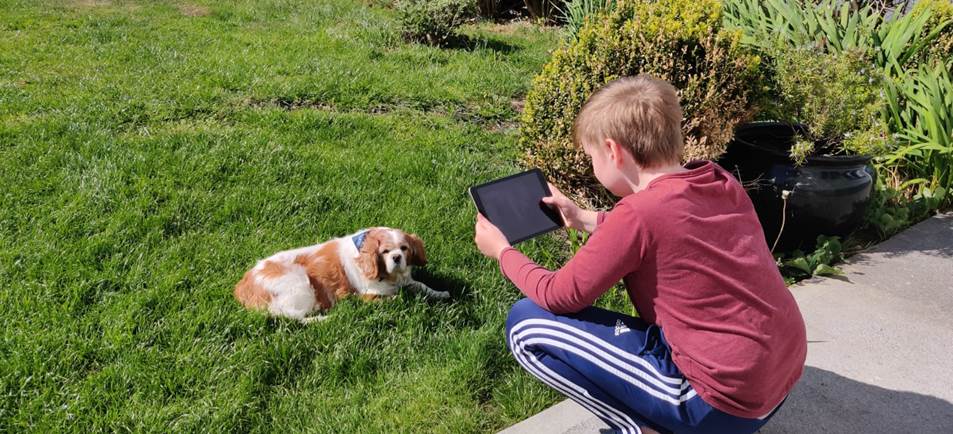 The See Yourself On Screen Challenge is a pan-industry initiative, led by the BFI through its Young Audiences Content Fund (YACF), which is financed by the UK government, alongside a collective of industry partners and broadcasters. TG4 in Ireland along with UK Broadcasters, Channel 5's Milkshake!, CITV, E4, S4C are supporting as broadcaster partners and will each air the winning entry for their channel, whilst Animation UK, BAFTA Kids, Children's Media Conference, Into Film, PACT and Northern Ireland Screen are also backing the challenge.
Last year's challenge saw hundreds of young people from across the Ireland and the UK send in their 30-second video submissions, with an esteemed panel of industry judges choosing the overall winners. The finalists duly received one-to-one virtual masterclasses from famous and influential figures from the world of TV: Konnie Huq, Jessica Hynes, Rob Delaney, Cheryl Taylor, Harry Hill, Matthew Lewis, Amelia Dimoldenberg, Robert Popper and Reggie Yates. Each mentor offered hints and tips to help guide the finalists through the scriptwriting and shooting process, before the finalists saw their show premiere on TG4, Channel 5's Milkshake!, CITV, E4 and S4C.
This year, the SYOS Challenge launches on 9th June, which marks the 75th anniversary of the first regular children's programmes airing in 1946. After the end of World War II and with an expanded schedule to fill, regular programming for children was launched and a live BBC Sunday afternoon programme known as Children's Hour or For the Children – featuring the famous puppet Muffin the Mule with presenter Annette Mills – was given a regular slot. Entrants for this year's challenge will be asked to submit an idea for a TV show set 75 years from now, in 2096.
In line with the aims of the YACF, the See Yourself on Screen Challenge seeks to encourage children and young people to engage with television, offering them an opportunity to share their ideas for the future of children's TV –  TV that is inspiring,  informative, reflective and inclusive. A key aim of the Fund is to encourage the creation of high quality, free-to-air public service television programmes which reflect the lives of children and young people in Ireland and the UK.
Entrants are asked to submit an initial 30-second video, summarising their idea for a two-minute-long mini TV show set 75 years from now. Entrants will be offered digital masterclasses with an experienced figure from the television industry, who will help each finalist turn their idea into reality. The resulting two-minute mini-TV show will then premiere on one of the partner broadcasters this autumn.
Jackie Edwards, Head of the BFI Young Audiences Content Fund said: "Last year's See Yourself On Screen challenge brought a lot of joy and fun to young audiences during lockdown. We can't wait to see what brilliant ideas emerge from entrants as they look positively to the future and the sort of television they see for themselves!"

Siobhán Ní Bhrádaigh, Commissioning Edior of Young People's in TG4 said "We are delighted to be part of the initative again this year following the success of last year's See Yourself on Screen Challenge', We look forward to bringing new talent and ideas from young people across Ireland to TG4."
Entries for See Yourself on Screen should be submitted via www.bfi.org.uk/seeyourselfonscreen. The closing date for entries is 2pm on Monday 28th June 2021 and successful shortlisted entrants will be notified by Wednesday 14th July.
About the Young Audiences Content Fund:
Managed by the BFI, the Young Audiences Content Fund (YACF) supports the creation of distinctive, high-quality content for audiences up to the age of 18. The three-year pilot will support the creation of distinct, high-quality content for children and young audiences to be broadcast on free-to-access, Ofcom regulated television channels and online platforms.
Financed by UK Government as part of the Department of Digital, Culture, Media and Sport's Contestable Fund, the YACF aims to provide new avenues for creators of original content and bring new voices to the market, and back content which entertains, informs and reflects the experiences of young people growing up across the UK today. www.bfi.org.uk/yacf