Limerick Male USA Soccer Scholarship Event
Upcoming event:
Sunday 29th  October – The Pavilion, University of Limerick.
          Time – 12:45pm Registration.  
PASS4Soccer players are more in demand year on year with our continued success of placing players in quality universities in the USA who are making an impact all over the country. So far in 2019, FOUR P4S clients have signed professional contracts in the USA following completion of their studies. These players were previously overlooked by Pro clubs in Ireland & The UK and now have a university degree in their back pocket and an opportunity to play professional football! We look forward to following their careers.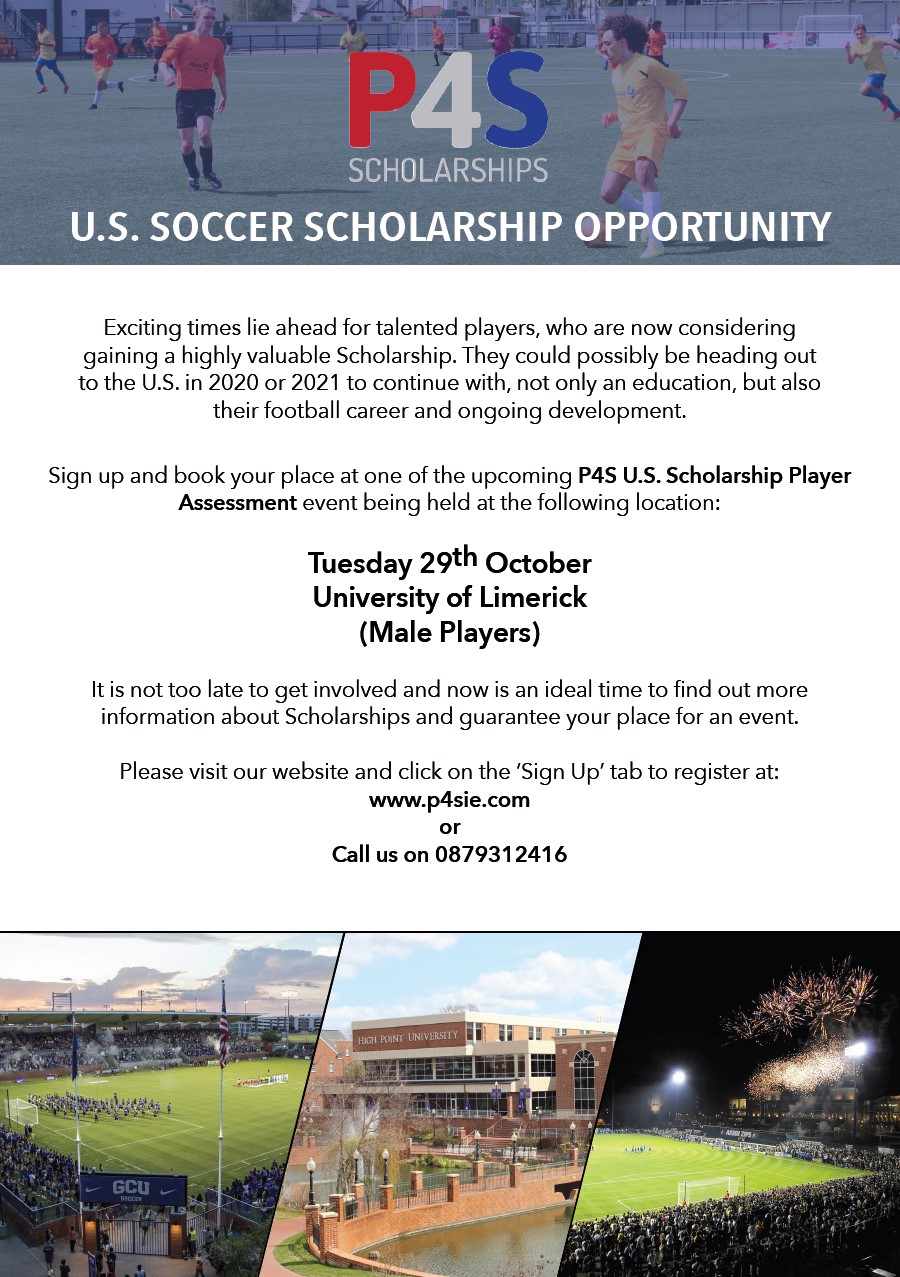 Places are now also available on the PASS4Soccer USA Tour taking place between 16th and 24th March 2020 to Orlando, Florida. The Tour will include visits to 5-7 universities as well as games against universities in the surrounding area. This forms an ideal opportunity to maximise your exposure as well as seeing what is available in the USA in terms of facilities, lifestyle, weather and level of university competition. The USA Tour has been running since 2008 and is a highly popular event so any interest in this event should be registered immediately! Tour Video: Click here.
Any  interested players who are considering going to the USA on a scholarship, it is very important that they attend one of our events. At the event, you will have the opportunity to meet the PASS4Soccer Team, showcase your ability and find out more about soccer scholarships. The event will also be professionally filmed for future highlight use. To attend please confirm via email and we will add you to the registration list or register online at www.P4SIE.com   – places are limited and on a first come basis.
If you have any questions, please do not hesitate to contact me on the numbers below.  It would be fantastic to get some exposure within the newspapers as I think it is something parents need to be more aware of for there kids about options of Third Level Education.