Free community CPR training programme launched by Irish Heart Foundation
The Irish Heart Foundation has this week (Tuesday 19th March) launched a new free community CPR training programme, Hands for Life. The programme, which is supported by Abbott and ESB Networks, was launched in Dublin by heroic nurse Aoife McGivney who recently intervened and saved the life of a bus driver who was suffering a cardiac emergency.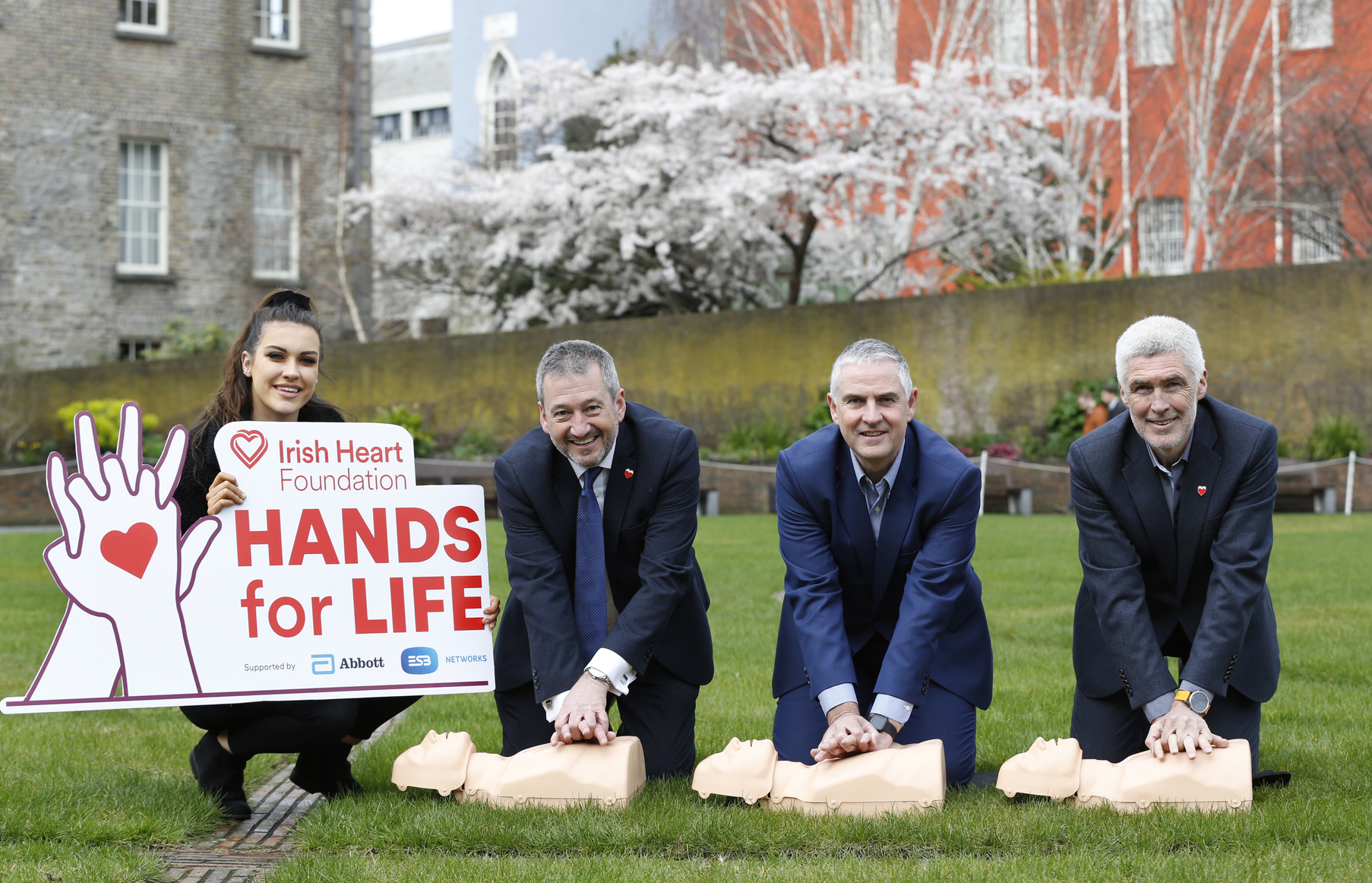 Hands for Life will offer free CPR training to 100,000 people in local communities throughout Ireland over the next two years. Hands for Life training courses are free and open to all adults aged 18 and over. To find a course near you, visit www.HandsForLife.ie.
Communities, groups and clubs who have 30 or more people interested in a free Hands for Life training course can contact the Irish Heart Foundation directly on 01 668 5001 or handsforlife@irishheart.ie to arrange a training course in their locality.
The training course takes just under one hour to complete and attendees will learn:
How to recognise a cardiac arrest
How to perform compressions, including hands-on practice on a CPR training manikin
How to use an AED (Automated External Defibrillator)
How to respond to a choking emergency
How to recognise a stroke
Speaking at the launch, Aoife McGivney said "The day started out like any other for me, getting on the bus to work in the morning. But before long, I found myself on the footpath on O'Connell Street performing CPR on the bus driver. Thankfully, he survived and nobody was hurt. I was lucky enough to know what to do in the situation and my training kicked in instinctively. I know first-hand how important it is to know CPR and that it can be the difference between life and death. I hope that others will be inspired by my story to learn CPR through the Irish Heart Foundation's Hands for Life free community CPR training courses, supported by Abbott and ESB Networks."
Tim Collins, CEO of the Irish Heart Foundation, said "Every day in Ireland 13 people die from a cardiac arrest. Around 70% of these happen at home in front of a loved one. If there is someone nearby who knows CPR and can start performing compressions quickly, you can double or even triple a person's chances of survival.
"At the Irish Heart Foundation, we are on a mission to save lives. We want to create a nation of lifesavers by training as many people as possible in the lifesaving skill of CPR. That's why we've developed the Hands for Life programme and now thanks to the support of Abbott and ESB Networks, we will train 100,000 people in the next two years which will in turn improve people's chances of surviving a cardiac arrest in Ireland."
Paul Hennessy, Customer Experience Director, Abbott, said "At Abbott, we work to keep hearts healthy with our life-changing technologies and by empowering communities to prevent non-communicable diseases, here in Ireland and around the world. We know CPR saves lives, and by providing CPR training to 100,000 people through "Hands for Life", we can provide people across Ireland with the practical knowledge they need to step in and save a life in the most serious of situations."
Paul Mulvaney, Executive Director, Customer Delivery, ESB Networks said "ESB Networks is proud to partner with and support the Irish Heart Foundation and the Hands for Life programme. We have a strong connection with every community in Ireland and this programme allows us to strengthen this connection by engaging with these communities and empowering those within them to become part of a nation of life-savers. I encourage people across Ireland to take part, and urge them to spread the message to their friends, families and wider community."

CPR – The Four Steps for Survival
Step 1: If you see a person suddenly collapse, check for a response. Call their name and shake them gently on the shoulder.
Step 2: If there is no response call 112 or 999 immediately to get help on the way.
Step 3: If the person is still not responding and is not breathing normally, then make sure the person is lying flat on their back on the ground. Kneel close beside them and place your two hands on the centre of their chest in line with their nipples, one on top of the other, and keep your arms straight.
Step 4: Start compressions. Push hard and fast. Push down at least five centimetres or two inches and push at a rate of 100-120 beats per minute. The Bee Gees song 'Stayin' Alive' is the perfect CPR rhythm. Keep going until the emergency services arrive.
CPR – Handy Tips
Tip 1: When you call the emergency services, put your phone on loudspeaker so that you can immediately start compressions while speaking to the emergency calltaker.
Tip 2: Know your Eircode. This will help the emergency services find you.
Tip 3: Always remember, you can do no harm by starting CPR. It is better to give CPR to someone who doesn't need it than not to give it to someone who does. By starting CPR immediately, you can double or even triple a person's chances of survival.
About Hands for Life
Hands for Life: Community CPR Training is an Irish Heart Foundation programme, supported by Abbott and ESB Networks, which will see free CPR training offered in communities across Ireland.
Every day in Ireland 13 people die from a cardiac arrest and around 70% of these happen at home. CPR is an easy skill to learn and once you know how to do it, you could save someone's life.
The Irish Heart Foundation is offering free CPR training courses for 100,000 people in communities across Ireland from March 2019. To find out more and sign up for a local training course, visit www.HandsForLife.ie.
About the Irish Heart Foundation
The Irish Heart Foundation is Ireland's national charity fighting heart disease and stroke through advocacy, research, prevention and care. For more information, visit www.irishheart.ie.
About Abbott
Abbott is a global healthcare leader that helps people live more fully at all stages of life. Our portfolio of life-changing technologies spans the spectrum of healthcare, with leading businesses and products in diagnostics, medical devices, nutritionals and branded generic medicines. Our 103,000 colleagues serve people in more than 160 countries.
Abbott serves the Irish market with a diverse range of healthcare products including diagnostics, medical devices and nutritionals products. In Ireland, Abbott employs almost 4,000 people across nine sites. We have six manufacturing facilities located in Clonmel, Cootehill, Donegal, Longford and Sligo and a third-party manufacturing management operation in Sligo. Abbott has commercial, support operations and shared services in Dublin and Galway. We have been operating in Ireland since 1946.
Connect with us at www.abbott.ie and www.abbott.com.
About ESB Networks
ESB Networks employs over 3,200 people, from specialist network technicians on the front line connecting, maintaining and repairing the electricity system for Ireland's homes and businesses, to engineers, data scientists and IT professionals utilising emerging technologies to create one of the world's smartest and most resilient energy networks. For more information visit: