Offaly Artist Receives Arts Council Bursary worth €15,000
101 artists from all across Ireland are just some of the exceptional promise that have been given bursaries by the Arts Council, the government agency for funding and developing the arts. One of the artists is Patrick Hough. Patrick received his BA in Fine Art Media from the NCAD, Dublin in 2011 and his MA in Fine Art Photography from the Royal College of Art, London in 2013. He is a recipient of the Jerwood / FVU Awards 2017 – a major £20,000 prize for emerging artists using moving image and the 2017 PLASTIK Award at PLASTIK Festival of Artist Moving Image, Dublin. His next solo exhibition will be held at Solstice Art Centre, Navan in September 2018.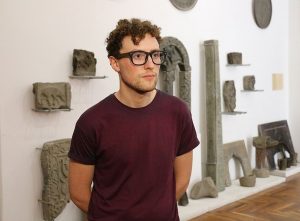 The innovative artists work across music, literature, circus, theatre, film and visual arts and are based in all four provinces of Ireland.
"The Bursary Award will allow me to spend time developing a new body of research that explores the intersections of archaeology, microbiology and climate change. It will give me crucial financial support to pursue an exciting and timely new direction in my practice, allowing me to take risks and innovate without the burden of financial worries. It will also ensure that I can continue to deliver exceptionally high-quality work for upcoming exhibitions in Ireland and internationally," said Patrick Hough.
Arts Council Director Orlaith McBride said:
"Each year we're tasked with a difficult job of going through the dozens of applications we receive and once again this year, we have identified those deserving recipients who are experts in the areas of music, opera, theatre, dance and architecture. Work in the arts sphere is ever-evolving and I look forward to seeing what is produced over the next number of years. I wish each of our recipients every success."
The Arts Council received 427 eligible applications for Bursaries and just some of those receiving the bursaries are Kate Guelke from Donegal for Opera, Sinead Diskin from Dublin for theatre, Sharon Whooley from Galway for film, Samuel Cunnane from Kerry for visual arts and David Power from Waterford for music.