Largest ever Cannonball event coming back to Tullamore
Sunday September 11th 2016  | 1.30pm – 3.30pm 
190 supercars and novelty cars, €850,000 raised for Irish charities, 900km of Irish open roads, free family festivals, celebrities, live music, dancers, stunt riders, aerobatic displays and the awesome sight of over 150,000 excited spectators coast to coast waving chequered flags from September 9th – 11th 2016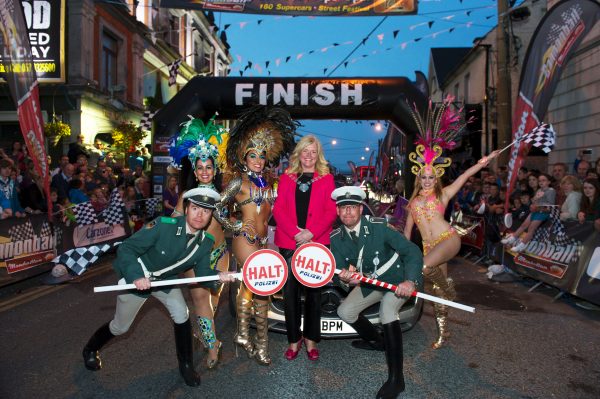 On Sunday September 11th 2016 at 1.30pm to 3.30pm, the largest ever CANNONBALL event, is coming back to Tullamore with a mighty roar.  The supercar spectacle which takes place from September 9th to 11th all over Ireland was last in Tullamore in 2014 and over 15,000 people flocked to the town as fans got up close and personal with 160 of the world's top mark cars such as McLaren, Lamborghini, Ferrari, Aston Martin, Porsche, Masseratti, Rolls Royce and Bentley.  Now in its eight year the Supercar spectacle has raised over €850,000 for Irish Charities and this year, proceeds will go to Pieta House.  Sponsored by Manhattan Popcorn, CANNONBALL goes up a gear this year with 190 supercars and over 150,000 spectators expected to line the streets all over Ireland, making it the largest ever Cannonball event.  The start line will be at the Point Village, Dublin on Friday September 9th from 9am.  Cannonball is not a race but an organised road rip and the gleaming convoy will drive through 900KM of Irish open roads with stops in Dublin, Cavan, Westport, Bunratty, Galway, Tullamore and Wexford.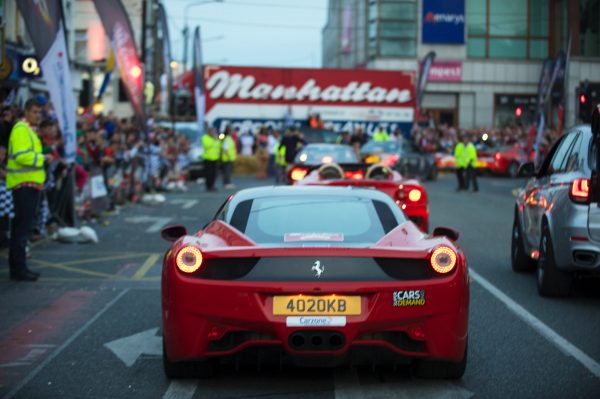 CANNONBALL will blaze a trail through towns and counties in spectacular style with FREE family friendly festivals all over the country.  Each start and finish line at each host town is infused with an electric atmosphere featuring Las Vegas Show Girls, live music, DJs, The Monster Energy JAM Truck, local entertainers and dignitaries, confetti cannons, lots of Manhattan popcorn, CANNONBALL official merchandise and, of course, the unmistakable roar of 190 supercars.  Proceeds from the event this year will go to Pieta House, a suicide and self-harm crisis centre with nine centres throughout Ireland and one in New York providing a free professional one-to-one therapeutic service.
A quarter of the supercars are coming in from the UK, Europe and even Dubai with the highest ever number of top mark cars worth an estimated €30 million including McLaren, Lamborghini, Ferrari, Aston Martin, Porsche, Masseratti, Rolls Royce and Bentley. CANNONBALL is the brainchild of Kildare Businessman and AB Signs proprietor, Alan Bannon and the benefit to the Irish economy of this event is estimated at €2,567,000 per year, most of which is spread evenly throughout the counties and towns visited. Nominated as Best Live Event at the National Event Industry Awards, the route showcases beautiful villages, towns and famous Irish landmarks to both Irish and foreign Cannonballers and fans.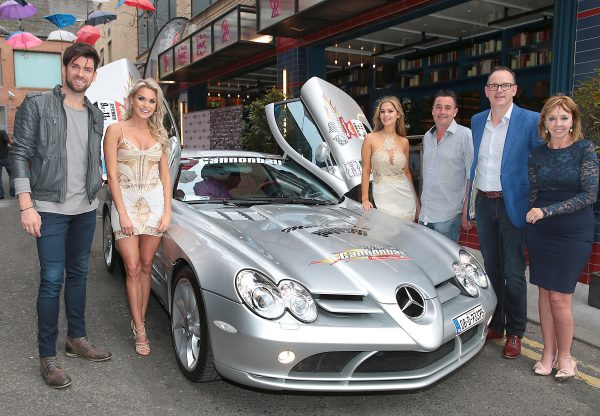 This year's celebrity ambassadors include TV3's Glenda Gilson and 2FM's Eoghan McDermott.  CANNONBALL has always had a star studded celebrity following including Soap brothers Ryan and Adam Thomas from Coronation St and Emmerdale, former Miss World Rosanna Davison and husband Wes Quirke, Models Georgia Salpa, Aisling Quinn, Hazel O Sullivan, Emma Quinlan, Holly Carpenter, Roz Purcell and many more.  BRUNO MARS even showed up one year to join Boyzone's Shane Lynch for a quick pit stop in Cork!  Ryan Tubridy, Nicky Byrne, Miriam O Callaghan, An Taoiseach and Former President Mary Robinson have dropped the famous chequered flag and the notorious NYPD, German Polizei, Fr Willie and colourful Cannonballers in crazy costumes add to the melee.
Don O'Neil of Manhattan Popcorn, headline sponsor of Cannonball said. "We are very proud to be part of Cannonball again in 2016 and to help raise funds for Pieta House.  We recently scooped the Best Event Sponsorship Award for Cannonball at the National Event Industry Awards and also this year the iconic Cannonball movie is 35 years old so we have plenty to celebrate!  All great movies go with great popcorn and we have the opportunity to bring this mad cap movie to life!  There will be lots of Manhattan popcorn on the route for spectators as they soak up the supercharged festival atmosphere"
The success of CANNONBALL Ireland has led to international events and this year CANNONBALL made headlines in Scotland, Wales, and across the continent as they roared through in spectacular style leaving their mark with the excitement and spectacle that CANNONBALL is now becoming renowned for all over the world. Manhattan Popcorn is the CANNONBALL Headline Sponsor, Crew sponsor for 2016 is Volvo and associated sponsors include Paddy Connolly Specialist Cars, Zozimus, Carrig Brewing Company, Supermacs, Prestige Car Buyer and AB Signs. See www.cannonball.ie for further details, routes and events.