Irish Designs on the Red Carpet for London Royal Premiere of Spectre
The red carpet was awash with stars at The London Royal Premier of Spectre at the Royal Albert Hall tonight.  Two Irish Students – winners of The Bank of Ireland Junk Kouture Glamour Prize – walked the red carpet alongside James Bond actors Daniel Craig, Christopher Waltz, Lea Seydoux, Ben Whishaw, Naomie Harris, David Bautista, Monica Bellucci, Ralph Fiennes and director Sam Mendes, in their 'Kouture' creations.
The Duke and Duchess of Cambridge, Prince William and Kate Middleton, took a well-deserved night off from their two young children and made an appearance to watch the latest Bond movie. Prince Harry joined the royals in London tonight too.
Secondary school students Julie Quinn (Cardonagh Community School, Donegal) and Adelina Hmelevska (Moate Community School, Westmeath) modelled their stunning Bank of Ireland Junk Kouture winning outfits 'Sheer Glass' and 'Mediva.' Their designs were on par with other celebrity outfits as they rubbed shoulders with big Hollywood names.
Bank of Ireland Junk Kouture is a leading fashion and art competition open to all secondary school students across Ireland.  Entrepreneurs Elizabeth Curran and Troy Armour started the creative competition in 2010.  The fashion contest encourages entrants to think about the importance of sustainability and recycle materials through a mix of fashion and creativity; it is a one-of-a-kind contest.
Laura Lynch, Head of Youth Banking at Bank of Ireland said, "We are exceptionally proud of our young Irish designers whose award-winning creations were so beautifully modelled on the red carpet tonight.  As Ireland's leading bank for students, we are delighted to support a competition which makes dreams come true and empowers Ireland's young people to collaborate and innovate. We continue to be astounded by the level of creativity and passion which students bring to their entries each year and we look forward to what the 2016 competition will bring."
Co- Founder of Junk Kouture, Elizabeth O'Donnell said, "We are delighted to have Bank of Ireland Junk Kouture represented on the red carpet at such an exciting event to showcase their fabulous designs. To attend the Royal Premiere with big celebrities and members of the
royal family is such a privilege for the winning students. We are encouraging students to get their applications in for next year's competition, the deadline is January 29th 2016"
Further information:
Issued on behalf of Bank of Ireland Junk Kouture www.junkouture.com
+353(0) 1 497 0313 / Lindsey@lhpublicity.ie | mary@lhpublicity.ie
Make sure to keep an eye on the Bank of Ireland Facebook page and Twitter page to stay up to date on competitions, ticket giveaways and upcoming events.
Notes to the Editor:
Bank of Ireland Junk Kouture Recycled Fashion Competition 2015 is proudly supported by Bank of Ireland and is open to all second level students in both Northern Ireland and the Republic of Ireland. The deadline for submission of entries for the 2016 competition is 29th January 2016.
Details of dresses
Sheer Glass
Model: Julie Quinn
Designers: Grainne Doherty, Niall Kelly
Teacher: Pauline Mc Dermott
School: Carndonagh Community School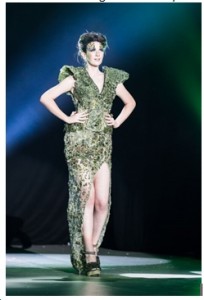 Mediva
Model: Adelina Hmelevska
Designers: Gormlaith Mandal, Roisin Hamm
Teacher: Pamela Keogh
School: Moate Community School