Brosna Gaels Notes
U6 Indoor Hurling
Huge thanks to all the players, coaches and parents for the last 6 weeks of u6 indoor hurling! Each child learned some great new skills, made new friends and had fun! Each child received an indoor ball and a Brosna Gaels hat to mark their achievement! Thanks to Anne O'Shea &  Granny Egan for all the knitting! U6 hurling will resume outdoors in April!
U21 Championship
Ballinamere Gaels 1-12, Shamrocks 0-14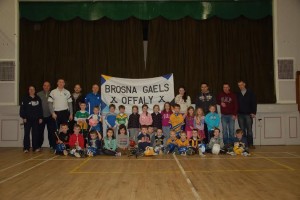 u16
The Brosna Gaels u16's have joined forces with Clara to compete at u16 level. The played CRC Gaels in their first league fixture last friday, Result Clara/Brosna Gaels 1-14, CRC Gaels 3-14. The u16's take on Ballyskenagh/Killavilla on Saturday 7th March in Clara at 4pm. On Sunday 15th Marchthey travel to play Gracefield.
u8, u10 & u12
Coaching for u12, u10, u8 continues on the astro pitch in Moate Community School on Fridayevenings from 7 to 8pm. Cost is €2 per child and €3 per family!
Congratulations
Congratulations to Gallen Community School on winning the North Leinster Senior B Footbal Final last week and especially all the Brosna Gaels hurlers involved! Well done lads!