SMEs in Offaly more optimistic about 2015, survey reveals
62% of small firms in Offaly and the Midlands are optimistic about the year ahead, but their likelihood of opening a new premises in the next year is lower than firms elsewhere in Ireland.
The inaugural Magnet Regional Business Barometer (MRBB), a study of over 600 SMEs across the Republic of Ireland by Amarach Research on behalf of cloud telecoms provider Magnet, revealed that only 7% of companies in the Midlands feel the Government is doing enough for them – the lowest in the country.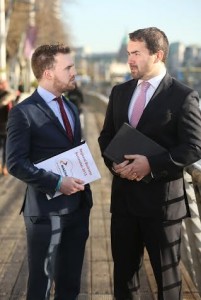 84% of firms know who their local public representatives are, but only 15% are aware of the technology and business grants available worth up to €5,000.
SME decision makers generally are much more positive than the general public, with 75% of SME's saying the economy is improving, while just 55% of the general public feel this is the case.*
The manufacturing sector is most positive in its outlook for the year ahead, with SMEs in hotels, restaurants and bars the most negative.
"The first year of Magnet's barometer shows SMEs across Ireland are far more positive about the future than consumers. Businesses are proving very resilient in the face of the high operating costs and financing issues they are facing," says Mark Kellett, CEO of Magnet.
"While the upswing is seeping through to all businesses, it's clear that the smaller ones are most vulnerable and in need of support."
According to the Magnet Regional Business Barometer, only 11% of SMEs overall are aware of Government technology and business grants, and the smaller the firm the less likely that they are to be aware of the supports available.
"The low awareness of supports available to small firms is striking," says Kellett. "The poor take-up of these schemes means more needs to be done by both Government and industry to educate the SME community of the supports available.
"An acceleration of the planned roll-out of the national broadband scheme is critical so that all Irish SMEs can avail of the supports such as the online trading voucher.
"We're making it our mission to take Irish Business to the Cloud, and investment in the creation of our new regional business barometer for Ireland, where previously information was lacking, is one of the many things Magnet is doing to support SME's in 2015," says Kellett.
Over the coming weeks, Magnet will be hosting regional breakfast briefings for SMEs based on the research. For more details see magnet.ie/briefings