Back to basics with board games this Christmas
A survey has revealed that 67% of people would prefer to buy Irish products when buying gifts this Christmas. The survey, carried out by Waterford-made board game 30 Seconds, also revealed that spending quality time with family and friends is a top priority amongst most.
90% of people want to spend more quality time with loved ones this Christmas, with one in two people keen to spend that quality time playing an entertaining game that all the family can enjoy.
Despite the selection of television Christmas specials, only 30% want to spend time watching television preferring instead to spend time with their family.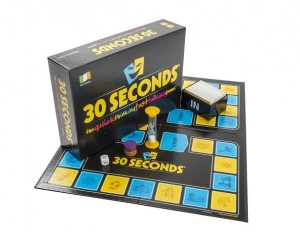 Also, while tech gadgets and gifts may take pride of place under the tree this Christmas, there is still an appetite for getting back to basics with an all-inclusive board game as reflected in the 64% who stated that they regularly play board games. This figure is also reflected in the fact that sales of 30 Seconds has doubled its sales this year with several thousand  extra copies of 30 Seconds in Irish homes this year.
However, rivalry can be rife among family and friends as 50% of respondents admitted to cheating while playing board games so vigilance is advised!
30 Seconds is a quick-thinking and fast-talking description game that can be enjoyed by all.  With 30 seconds on the clock, players can test their knowledge using Irish-themed and international words that are as familiar as Brian O'Driscoll, 'Love/Hate' and even Dustin the Turkey.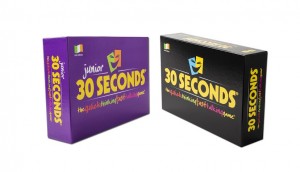 Greg Dooley, owner of 30 Seconds, said "the survey results reflect that it is still important for family and friends to engage and have fun with each other away from all the technology-driven distractions of television, phones and gadgets.
I'm also delighted to see the support for the local economy and how important 'buying Irish' is for consumers. It's a great boost for small Irish businesses and the community."
The survey also revealed the most popular Irish celebrities of the moment. Respondents were asked to name their favourite Irish person to feature in the next edition of the game due out in 2015. Katie Taylor, Niall Breslin 'Bressie' and Nidge were just a few of the personalities that topped the poll.
Produced in Waterford, 30 Seconds is available to buy in over 100 stores nationwide including Smyths Toys, Easons, Toymaster, World of Wonder and Art & Hobby stores retailing at €29.99. For the full list of stockists and further information go to www.30seconds.ie.