Down Syndrome Ireland Launches Charity Cycle Tour de Leinster 2014
Down Syndrome Ireland is calling on amateur cyclists in Laois/Offaly to saddle up for the inaugural Tour De Leinster charity challenge.
Cycling legend Sean Kelly will be joining the cyclists for the challenging charity event which takes in a 600km route through some of the most beautiful scenery of of the 12 counties of Leinster.
The Tour de Leinster begins on Thursday, September 18th and continues over four days until Sunday, September 21st, 2014.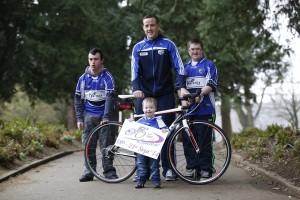 Starting in Dublin city, the route takes the cyclists south to Wexford across the Wicklow Gap, Bagenalstown to Carlow via the gruelling Mount Leinster then on to Athlone,  the Hill of Tara and north to Drogheda, with the cycle finishing up at Howth Hill.
All cyclists participating in the event must cover their own costs, so all the funds raised through the inaugural event will go directly to the 10branches of Down Syndrome Ireland in Leinster as well as supporting a number of national projects.
Based on the hugely successful Tour de Munster event, which has raised more than €1million since 2010, for DSI Munster branches, Tour de Leinster will raise much-needed funds for the Leinster branches.
DSI receive little government funding and have to fundraise almost 90% of the €2.4 million required to run their services.  All services at local level are run on a voluntary basis by parents, funds raised by cyclists and sponsors will be used for the maximum benefit of DSI members and will make a difference to over 1,000 families in Leinster.
Local Branches provide a wide range of services locally including:
}  Home Teacher Programmes
}  Adult Literacy Programmes
}  Speech and Occupational Therapy
}  Early Development Groups
}  Social activities for children and adults
Pat Clarke, CEO of DSI said: "The funds will make all the difference to the lives of people with Down syndrome in Leinster as well as theirfamilies by providing vital services and facilities in each county."
"Our goal in DSI is to assist children born with Down syndrome to be as independent as possible. To achieve this, it is imperative that when they are young they have access to speech therapy and occupational therapy and as they grow we want to help them with other areas of their lives such as independent living and employment opportunities. The objective is to ensure that each individual is developed to his/her full potential and to help people with Down syndrome make their own futures as bright and independent as possible. This all requires a lot of funding however, and through the Tour de Leinster cyclists, more young people with Down syndrome will be helped in a practical way."
For up to date information and developments on the Tour please log onto www.tourdeleinster.ie or you can follow the Tour on twitter@tourdeleinster
For further information on Down Syndrome Ireland please see www.downsyndrome.ie

Tour de Leinster Route:
Day 1: Circa 160km
Dublin-Naas –Hollywood-Laragh-Rathdrum-Wexford
Day2: Circa 140Km
Wexford-Bagenalstown-Carlow-Abbeyleix-Portlaoise
Day 3: Circa 157km
Portlaoise- Athlone- Edgeworthstown-Mullingar
Day 4: Circa 150km
Mullingar-Killucan-Trim-Hill of Tara-Duleek-Drogheda-Bettystown-Laytown-Balbriggan-Swords-Malahide-Portmarnock-Howth- FINISH Howth Hill.