The Countdown is on for Junk Kouture 2014
Artistic and creative secondary school pupils across Ireland are being encouraged to get their hands on industrial, electrical, commercial and domestic waste products and turn them into pieces of fashion art as the deadline for entries to the 2014 Junk Kouture Recycled Fashion competition proudly supported by Bank of Ireland and the European Recycling Platform (ERP) looms closer – Jan 31st.
Last year's competition saw Ronan Murphy and Jack Tierney reach the grand final of the competition with their extravagant design The Joker. The boys are pupils at St. Brendan's Community School, Birr and Junk Kouture is encouraging more pupils from Co. Offaly to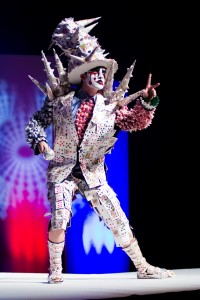 take part this year. Their design was constructed using old playing cards, and lot of them! They were inspired by the 1920s Charleston glamour.Joker from the Batman comics.
Created in 2010 by entrepreneurs Elizabeth Curran and Troy Armour from Co. Donegal, the Junk Kouture competition has seen thousands of teenagers' work submitted over the past three years, with some spectacular and awe-inspiring pieces gracing the competition's regional and national catwalks. Last year the Grand Final was attended by over 2000 spectators in the Bord Gais Energy Theatre which saw Limerick Students 'Ultra Violet Wash' walk away with the top prize of €2,500 for their school, €1000 worth of IT equipment, €500 cash and a trip to the Cannes Film Festival.
This year Junk Kouture is proudly supported by Bank of Ireland and ERP, the only pan-European compliance scheme for electronic waste and battery recycling. The catwalk shows which will take place to see who proceeds to the grand final will take place in theatres regionally throughout March and promise to be unforgettable shows, for the audience let alone the contestants, if last year's competition is anything to go by – audience members dancing in the aisles, fog horns sounding for support and audience sing-alongs to classic hits to name a few of the highlights!
Bank of Ireland Youth Marketing Manager Conor Mc Glynn commented "We are always looking at ways of supporting secondary school initiatives. For the second year running, we are delighted to be supporting Junk Kouture in such a creative competition that gives us an opportunity to invest in the students amazing talent and their promising future in the fashion world. With our large customer base among the student population the partnership is an excellent fit and provides a meaningful platform for us to engage with our young customers.   We would like to wish all the participants the very best of luck this year and look forward to seeing some creative and amazing entries at the regional finals."
Martin Tobin, ERP managing director, said: "We are getting to the exciting stage of this competition again. At ERP, we have been consistently impressed by the fun, fashionable and creative way students convey the reuse/recycle/refashion message behind Junk Kouture. We would like to wish all the entrants the best of luck and we look forward to seeing their work at the finals."
Junk Kouture is the leading fashion and art competition for secondary school students across Ireland and has a reputation, among many, as being the most creative.
Elizabeth Curran, Co-Founder Junk Kouture reveals "It's shaping up to be an electrifying competition this year and we are very excited to see the standard of entries. Don't forget registration begins on Friday 24th January and is to be completed entirely online this year through www.junkkouture.com where students must upload pictures of their creation and music to accompany their performance on the catwalk". Tickets for the spectacular catwalk shows happening regionally throughout March are currently on sale from the theatres – The Millennium Forum, UCH Limerick, The Helix, Dublin and The Royal Theatre Castlebar.
Junk Kouture Recycled Fashion Competition 2014 proudly supported by Bank of Ireland and the European Recycling Platform (ERP) is open to all second level students. For further information, please visit junkkouture.com, Facebook or Twitter.
Ends//
Issued by Junk Kouture
For further information please contact Emile Rainey:
Notes to Editors:
About Bank of Ireland:
Bank of Ireland Secondary Schools programme is a comprehensive financial education programme for schools that can be adapted to meet the needs of schools at all levels.
Junk Kouture is an important part of a range of fun and engaging initiatives supported by Bank of Ireland to provide a positive approach to developing students' understanding of relevant issues to them – everything from teamwork, personal responsibility and striving for achievement.
About European Recycling Platform (ERP) www.erp-recycling.ie
The European Recycling Platform (ERP), is a compliance scheme set up to ensure cost-effective  implementation of the Waste Electrical and Electronic Equipment (WEEE) directive and the Waste Battery directive, through innovative waste management strategies for the benefit of participating member companies, their customers and the environment.
ERP works hard to make it as simple as possible for consumers to recycle their WEEE waste –anything with a plug or a battery – and it is free, convenient and hassle free! If you are buying an appliance, you are entitled to bring back your old appliance to be recycled on a like for like basis, free of charge. You can recycle your old batteries at any retail outlet selling similar batteries, no purchase necessary and you can also recycle your electrical waste and used batteries free of charge at your local amenity site or at one of ERP's free recycling events that take place across the country.
Since its establishment, ERP has collected and treated over one million tonnes of WEEE – that is the equivalent to the removal of 3.5 million cars from the road for one year around Europe. In 2011, ERP collected an average of 8kg of electric waste per person in Ireland, more than double the EU target of 4kg per person. The impressive jump highlighted the remarkable shift in the public's attitude towards electronic recycling and diverting waste from landfill.