ECM College turns to Crowd Funding to create jobs and courses for the Leinster region
ECM (European College of Management) has turned to Ireland's first Crowd Funding platform for SMEs, Linked Finance, to launch a new range of accredited online degree, masters and MBA programmes.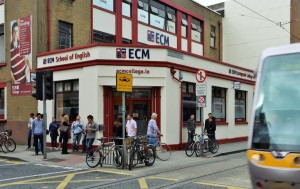 ECM, based in Dublin city centre, was founded in 2010 and is fast becoming a great success story. A new option to study for Degree, Masters and MBA by 'e-blended learning' will be launched in February 2014. The College has been appointed as the Irish 'Local Access Point' (L.A.P) for the London School of Marketing.
Crowd Funding is a new initiative in Ireland where businesses can apply to have their loans fully funded by members of the public through a new online company called Linked Finance as an alternative to the banking system.
ECM College is looking to borrow €30,000 to promote the new course opportunities as the college moves into the world of online education. Lenders investing in ECM would be promoting a new way to access qualifications for people in the Leinster region.
Now, for the first time in the Dublin and greater Leinster area, students can study their Degree or MBA at a time and a place that suits them and on their own PCs.
The College currently employs 50 staff and educates 1200 students. The loan will enable ECM to create eight new positions with the introduction of the first blended learning MBA in the Dublin region introduced in Spring 2014 and the possibility of a further 15 jobs by the end of next year.
Founder and Owner of ECM College, Edward O'Loughlin said: "ECM College is keen to promote this exclusive range of Marketing Degree, Masters and MBA courses in an innovative way. We chose crowd funding as an option to get some positive publicity and we are very keen to exploit the most modern techniques of engaging with our students as customers. We see Linked Finance as a very cutting edge marketing tool and are delighted to associate with this service to Irish businesses."
Since Linked Finance was commenced in March of last year 51 businesses across 16 counties and a huge variety of business sectors have been accessing finance to expand and grow.
More than 1.2million has been bid on the marketplace and more than 4000 registered users are looking to support SMEs and to get a good interest rate return on their lending.
More than 50 jobs have been created as a result of business loans being facilitated through Linked Finance.
Peter O'Mahony who runs the Laughter Lounge in Dublin set up the company with the backing of prominent businessmen Kingsley Aikins, Bobby Kerr and Feargal Quinn.
Peter O'Mahony said: "This concept is new to Ireland, but is a successful method for SME funding in the UK. It is a simple way to inject cash into supporting small to medium sized enterprises, bypassing the often restrictive and cumbersome banking system. We are delighted that a business as innovative as ECM College has come on board."
For more information on becoming a borrower or lender visit linkedfinance.com.