Magical CD and songbook supports wellbeing and development in young children
A unique, magical new CD and songbook for children aged 0-3 years, 'I am a little Boat', was launched today by Irish early years music specialist and mother, Fiona Kelleher. 'I am a little Boat' is designed for and dedicated to the youngest children and features a beautifully illustrated songbook with CD. The album is a collection of musical pictures designed to give rich and joyful listening experiences to children. These listening experiences are enhanced by the beautiful artwork of Inge Van Doorslaer, early years artist.
'I am a little Boat' provides an important tool for parents or carers of young children to support development and wellbeing in the early years. Musical experiences have been shown to have a significant positive impact on young children aged 0-3 and continue to impact in later life.  Music is proven to enhance wellbeing and happiness, instill joy or calm and aid sleep. Dedicated music is highly effective in helping children develop their potential as happy well-adjusted adults. 'I am a little Boat' may be purchased on www.fionakelleher.com at a price of €18.00.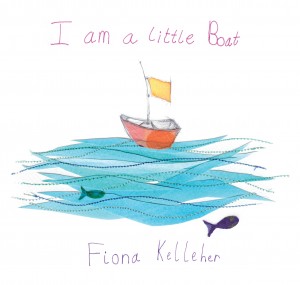 The album tracks the various moods and changes of energy experienced by very small children from sleepy to wakeful to playful to quiet to sleepy again. Each song is a creation that combines tenderness in the lyrics with a sound design that has movement and freedom, even in the quiet moments. The lyrics of the songs are focused and create a picture that may be added to with creative play and imagination.
Love, joy, laughter, reassurance and gentle guidance and creative play are essential for the well being of children both in the present and for their positive development in the future.
"The concept and creation of the album was profoundly influenced by the children I have worked with as an early years musician and my own children as well. They have taught me so much about creativity and the power of music. " Fiona Kelleher
She continues: "Children are born into the world already receptive and open to what life is offering them. They are ready to engage emotionally, socially and intellectually with the world around them."
Mindfulness, enjoyment of the present moment, free imaginative responses, play, singing and movement are all greatly encouraged in the music on I am a little Boat.
Fiona's new CD/Songbook I am a little Boat draws on her unique experience as an early years musician over the past few years, working principally with Graffiti Theatre Cork on the BEAG project and also with The Ark in Dublin and Music Generation Cork City.
'I am a little Boat' is an album for very young children to be enjoyed at any time, on journeys, at home, at play, before sleep.
More information on creative play and early years music on Fiona's website www.fionakelleher.com