Solo Art Exhibition by Painter Helen Costello in Cloughjordan
Cloughjordan artist Helen Costello is well known for organising well-received group art shows in Cloughjordan and Nenagh. Her first solo exhibition is being launched Sunday, 14 April at 4pm in Sheelagh na Gig bookshop, Cloughjordan.
Helen always dabbled in arts and crafts, but she started painting seriously 9 years ago with a local painting group. A self-taught artist, she has successfully exhibited several times in group exhibitions in Tipperary and Limerick. Helen enjoys working with many different mediums including oils, acrylics and clay, and she works them on different surfaces including wood, slate and canvas. The solo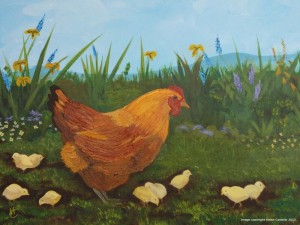 exhibition includes examples of work with all these materials and surfaces. Her inspiration comes from her love and appreciation of her rural surroundings, in which she immerses herself.
Everyone is welcome to the exhibition launch, and refreshments will be served. Helen Costello's solo exhibition runs until the end of May at Sheelagh na Gig.
For more information about the Helen Costello exhibition, ring Elizabeth on 0505 42123.