Offaly kids wow MEPs with tech skills at CoderDojo showcase, Brussels
Children from Co Offaly were among of 40 Irish youngsters who took part in a unique showcase of high-tech computing skills led by the Cork non-profit organisation, Coder Dojo, in Brussels today (Tuesday), hosted by MEP Sean Kelly (Ireland South/Fine Gael).
Wren and Orey Higgins, Patrick O'Connor and Luke Lally from Birr, Co Offaly are pictured with Nessa Childers MEP (Ireland East), MEP Sean Kelly (Ireland South), who hosted the CoderDojo initiative in the European Parliament and Jim Higgins MEP (North West).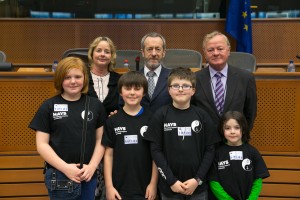 "Computer code is a universal language used across the EU and the world. Young EU citizens fluent in computer coding can drive the jobs, growth and innovation which will underpin Europe's recovery, and ensure Europe's future economic success," Mr Kelly commented.
Founded by James Whelton and Bill Liao, Coder Dojo, aims to teach young people how to code, develop websites, apps, programs, games and more through the use of Dojo 'clubs' and expert volunteers. CoderDojo's increasing success has led to worldwide expansion plans.