Cloughjordan Drama Group present The Maiden Aunt
Cloughjordan Drama Group will stage "The Maiden Aunt", a three act comedy by Jimmy Keary, in Cloughjordan Parochial Hall for six nights in January: Friday 11th, Saturday 12th, Sunday 13th, Wednesday 16th, Friday 18th and Saturday 19th.
Hoping to receive her inheritance, Dan and Mary invite Gertie (Mary's aging aunt) to stay with them while she is recovering after a spell in hospital. However Gertie is unimpressed with the welcome she receives…the gormless farm hand Francie seems to have taken an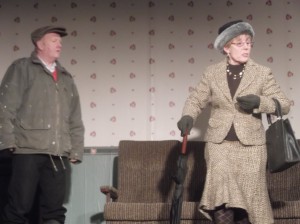 unrequited interest in her, Mary and Dan's lazy son John Paul 'surprises' her while concocting a hairbrained scheme to earn some quick cash, and Mary is preoccupied trying to cool Dan's neverending 'ardour'. Can this motley crew convince the overbearing and outspoken Gertie to make her will in their favour?
Come along to Cloughjordan in January where laughs are assured. The show will run for six nights starting at 8.30 pm each night. Proceeds from the opening night will be donated to Cloughjordan Heritage Group in support of their current museum/library project.