Clara U12 Girls recorded a great victory to take the ladies U12 Championship for 2012.
Clara U12 girls ended a controversial week by recording back to back U12 titles in Tullamore's O'Connor Park on Saturday by beating Shamrock's on a score line of 1-4 to 6 points, after playing a semi final and final in the space of 3 days. The team played really well. Hannah Lynam in goals, was rock solid under the high ball and has shown a level of confidence beyond her years to keep another clean sheet. The 2 corner backs, Laura Hanamy and Shannon Wynne played like little tigers and fought for every scrap of possession. Fia Quinn was a tower of strength at full back and was again very good under the high ball. The half backs of Anna Stewart, Ciara Johnston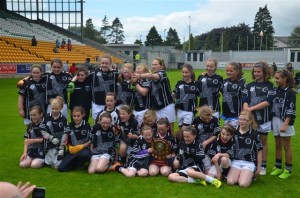 and Caoimhe Fitzpatrick were simply outstanding all day and they mopped up every ball that came into this line.
The scores came from the strong running Clodagh McKeon at midfield who racked up 1-1 from play, she cleaned up dangerous ball on her own full back line and dominated her midfield position as well. Ailbhe Sheridan who seems to glide over the ground, judging by the distance she covers on the pitch, bagged 2 points and was the match winner at the end of the day. Zoe Murray showed how unlucky she was not to start the match by coming on and scoring a vital point within minutes of being introduced.
Chloe Sheridan did her usual stuff by cutting down everything that moved at midfield, intercepting opposition play and setting up her own plays, she was excellent on the day. Sorcha Handy and Kelly O'Brien were the target players up front and were instrumental in setting up the goal chance of the game, where Sorcha sent a long ball into Kelly, she laid it off to Clodagh, before she drove it into the back of the net. The two flying fitzie's, Ellie and Kate were showing for ball all day and their ability to weave in and out through opposition defences was second to none. Ciara Guilfoyle follows in the footsteps of her brother as being an outstanding talent and played very well in the match. Ciara Monaghan was another girl to come on as a sub and her innate skill will stand to her in the future.
A final though goes to the Chairwoman of Clara Ladies Football Club, Laura O'Meara, who has stepped down from her position within the club, as she is leaving to return to the States for family reasons. Laura set-up the Ladies Football Club in Clara and has been at the helm ever since. Without her efforts and dedication a generation of Clara girls would never have had the opportunity to get involved in Gaelic games. The club has gone from strength to strength under her tutelage and I know nothing would make her more proud, than to see the club continue on the upward curve it has shown over the past few years. Laura is an ex NYPD cop and having seen her confront many challenges within the club, she brought a level of fairness, forthrightness and genuine warmth to the position, that anyone who has had the pleasure of knowing or working with her would appreciate her efforts and this is reflected in the team of committee members, mentors, players and supporters that she has pulled together over the years. Clara Ladies Football Club not only loose a great chairwoman, but loose a great friend as well and the committee wish her and her husband Denis and her family all the best in the future.