Spectacular Sights in Store for the midlands as CANNONBALL 2011 roars into Kinnitty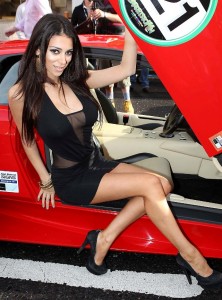 CANNONBALL in aid of Barretstown is back and ready to roll into the midlands.  For the first time, Cannonball will stop at Kinnitty Castle in Offaly on Sunday September 11th at 1.30pm and staff of Kinnitty will dress in Medieval Costumes to welcome car enthusiasts, families and fans who will be able to get up close to their favorite supercars totally free of charge. A spectacular air display will wow visitors by champion aerobatic pilot Eddie Goggins as live music, children's entertainment and old style Thrashing takes place on the ground.  A big barbeque and special Cannonball menu will be available for Sunday Lunch at Kinnitty and a giant custom built clown Hot Air Balloon will be a magnificent spectacle as the sky is the limit for this event.  Miss Offaly Theresa Casserly just back from representing Beauty All Ways Salon in Edenderry at the recent Miss Ireland Pageant will welcome Cannonball to County Offaly as Blueball Native and Cannonball organiser Maree Gorman is brings this spectacular event back to her own turf!
The unmissable CANNONBALL convoy will leave the stunningly beautiful Kinnitty Castle at 3.30pm and head for the Medieval City of Kilkenny.  It will be with great pride that Cannonballers from Ireland bring visitors through the midlands and the Slieve Bloom rolling hills, renowned as being the birthplace and early home of legendary Finn MaCool along with being the spawning ground of the Salmon of Knowledge which brought him the wisdom of the world. See www.cannonball.ie
Over 100,000 spectators will line the streets around Ireland in anticipation of this most spectacular event.  Over the last 2 years the CANNONBALL sponsored by Stobart Ireland has successfully raised over €235,000 for Barretstown to help rebuild the lives of children affected by childhood cancer. CANNONBALL was founded by Naas Businessman Alan Bannon of AB signs who has run the event for the last 3 years.  It is now largest organised road trip in Europe.  Each stage of the event and each host town is infused with an electric atmosphere featuring a street festivals Brazilian dancers, snake charmers, music and fire eaters.  Along the way CANNONBALL will also feature a stunt air display, a dramatic Navy ship, the Stig on water skis, medieval knights, a giant custom built hot air balloon, sky candles and of course, the unique CANNONBALL style and generosity.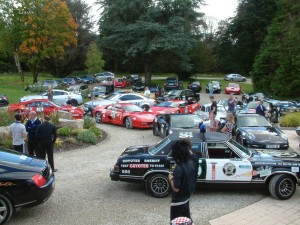 This adrenalin fuelled event is the most exciting motoring and social occasion of the year with some of the world's finest cars such as Ferrari, Lamborghini, McLaren, Aston Martin, Porche, Maserati, Rolls Royce, Bentley & Mustang. Some of the unique cars already registered for the CANNONBALL 2011 are the SLR McLaren 722, American NYPD Police Car, German Autobahn Polizei and the notorious General Lee's car from the movie "Dukes of Hazard" the Dodge Charger, the Back to the Future Delorian and The ESB electric powered Nissan Leaf will be the first electric powered car to enter into Cannonball.
CANNONBALL consists of 3 action packed days taking in some of Ireland's most scenic routes, famous castles, charming towns and villages. Spectators and car enthusiasts along the route hear the roars of the mighty convoy as they approach each of the destinations including Mondello in Kildare, Waterford, Cork on Friday September 9th; Bunratty Castle in Clare, Kylemore Abbey in Connemara National Park and Westport on Saturday September 10th; Kinnitty Castle in Offaly and finishing on September 11th at the medieval capital of Ireland, Kilkenny City.  All prestige cars are on view to the public at the end of each day.  MD of Stobart Ireland, Sean Brogan, said  "The Cannonball Run in aid of Barretstown is a great opportunity for anyone with an interest in cars to get out to see these amazing vehicles in action and to support a fantastic cause."
The star-studded convoy, including some of Irelands best loved celebrities and household names Cannonball is Ireland's most glamorous and exciting event and Europe's largest organised road trip.  World Famous chart topper BRUNO MARS was joined last year by our own Shane Lynch, former Miss World Rosanna Davison and boyfriend Wes Quirke, No Frontiers Presenter Kathryn Thomas, TV3's Elaine Crowley and Aisling O Loughlan, Models Georgia Salpa, Hazel O Sullivan and Emma Quinlan.  Newly crowned Miss Ireland Holly Carpenter will be joining CANNONBALL 2011 as well as DJ Steve Cooper from 98FM, the 2 FM Ballbusters, the Red Bull Wing team and the stunning CityJet girls in uniform.
With people coming from as far as Italy, Germany, US, UK and Monaco, CANNONBALL 2011 is set to put Ireland on the world map once again and a firm fixture in motoring history. The Main sponsor for CANNONBALL 2011 Stobart Ireland and corporate sponsors include ESB, CityJet, Manhattan Nuts and Popcorn, AB Signs, Mantra Garden Bar & Club Maynooth, Colornet, Richford Motor Company, Parfit, Three, Michel Jewellers, Pathfinder Minerals and Galgorm Resort and Spa, ! See www.cannonball.ie