Liam Maccarthy and Sam Maguire Cups on Display in Moneygall for President Obama's Visit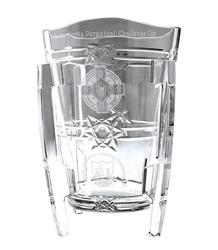 An interesting feature of the visit of President Barack Obama to his ancestral home in Moneygall will be that both the Sam Maguire and Liam MacCarthy Cups will be on display in the window of a premises on Moneygall's main street owned by the Shanahan family of Toomevara, Moneygall's neighbouring parish to the south west. The presence of the cups will symbolise the strong links of the local communities in both counties Offaly and Tipperary to the GAA.  They also extend a link between the President and the GAA established at the recent St. Patrick's Day Reception in the White House when Eoin Kelly of Tipperary and Bernard Brogan of Dublin were guests of President and Mrs. Obama.
While Moneygall is in County Offaly, the local GAA club plays in County Tipperary and has a long and proud history of contributing to the GAA in the premier county. Its most noted contribution came from the late Seamus Ó Riain who served as President of the GAA and was a former President and Chairman of Tipperary GAA Board. His family continue to play a prominent role in the GAA in Tipperary and other counties. Both the Sam Maguire and Liam MacCarthy Cups have strong links to Offaly GAA as well with Offaly having won All Ireland titles in both hurling and football. In fact they had the opportunity to hold both cups simultaneously in 1981 when they won the hurling final but were defeated by Kerry in the football final. They made up for that loss to Kerry a year later of course when they won the Sam Maguire and stopped Kerry's 5 in a row bid through a late goal from Seamus Darby who is now resident in Toomevara.
The Shanahan family would like to express their gratitude to Tipperary County Board and Cork County Board for facilitating the display of both cups during the President's historic visit.