Virtuoso Chamber Choir CD Launch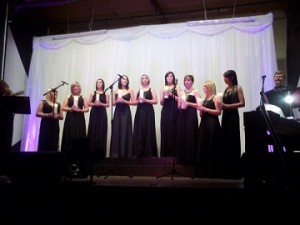 Virtuoso Chamber Choir  certainly " Enchanted" their audience in the Marian Hall Birr on Saturday night. On entering the hall many people were shocked and amazed to see the transformation that the hall had undergone in preparation for the event with red hued uplighters creating a delightful ambiance and a twinkling fairy light back drop complimenting the stage.
The choir processed up the centre isle by candlelight, dressed in stunning full length gowns singing an uplifting version of Jubilate Deo in four part canon . Following this the girls sang various church songs rounding off the first section with a John Rutter Piece – The Lord Bless you and Keep you.
Birr Choral society and  Will Cullagh provided guest spots at the concert and at times the choir were joined by local violinist Audrey Lynch who performed on their album. Highlights of the night include their eerie arrangement of Sound of Silence which was much talked about by concert goers at the interval. Other favourites include a five part arrangement of Siúil a Riún and undoubtedly the emotional rendition of Danny Boy both of which feature on the album.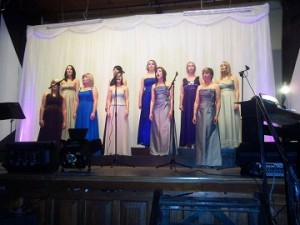 The choir thanked the many people who enabled them to make the night a great success in particular Tommy Lyndon their MC and most importantly their families and friends who helped in preparing the hall and supported them in every way to make the launch a huge success.Virtuoso have one remaining launch concert on Thursdat 28th april in The Church of Ireland, Church Road Roscrea at 8pm.
The choirs album Enchanted is available in many shops in Birr and in the surrounding areas – for a list of shops visit www.virtuoso.ie