Bombshells to Hit Midlands Throughout February!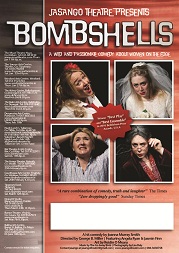 A bombshell is to hit Tullamore soon when the hit comedy Bombshells comes to Hugh Lynch's Tullamore from Friday February 11th to Monday February 14th. The play will also be performed at The Dunamaise Arts Centre Portlaoise on Thurs February 10th and Birr Theatre and Arts Centre on February 19th.  This is the second national tour with Bombshells for Jasango Theatre; a collaborative theatre company formed in 2009 by Jasmin Finn and Angela Ryan.
Bombshells is produced and performed by Jasmin and Angela who play four women dealing with the various "bombshells" which may befall women over the course of their lives.  The play enjoyed enormous success at Electric Picnic and on tour last year before it was picked up for The Fota House Summer Theatre Event in Cork.  It was performed in the exquisite grounds of Fota House for five glorious weeks last summer with local press declaring it "pitch perfect" (Evening Echo) The Galway-based company are just back from an American tour where the production won two prestigious awards earning the show "Best Play" and "Best Ensemble" in the 2010 Bethlehem Press Awards.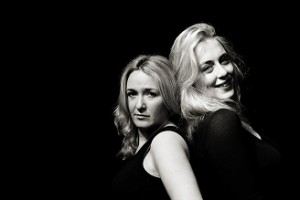 Bombshells is a rip-roaring, explosive and hilarious evening spent with several generations of women on the edge.  The play focuses on the lives of four women ranging in age from 16 to 64.  From the fame-seeking teenager to the frenetic young mother to the simmering widow and the exultant, terrified bride, these women will surprise and delight you in this series of vivid monologues.   The comedy promises to be just the treat to cure those winter blues with remarks like "Jaw droppingly good" (Sunday Times) and "Simple, elegant and eloquent….two extraordinarily talented women" (Bethlehem Press,USA) proving that this show is a must-see.
The company is currently based in Galway but co-founder Angela Ryan lives in Tullamore and a permanent move to Offaly may be imminent for Jasango Theatre.  Delighted to hear about the proposed building of Tullamore Community Arts Centre, Jasango have decided to set the ball rolling with a fundraising night for the centre.  On Valentines Night Jasango will put on a very special performance in aid of the Tullamore Community Arts Centre; all profits of the night will be donated to the fund.  Romance and fun will be the theme of the night and couples, groups and singles are all invited to attend.  A wine and cheese reception, kindly sponsored by Hugh Lynchs Bar, will take place after the show and there will be surprise treats at hand for guests on the night.  It could be just the ticket for a unique Valentines Night Out, whatever your relationship status!

Written for performer Caroline O'Connor, Bombshells premiered at the Melbourne Theatre Company, Australia in 2001.  In 2004, the production, starring O'Connor, was one of the hits of the Edinburgh Fringe Festival, transferring to the Arts Theatre in London.  Playwright Joanna Murray-Smith's plays have been produced throughout Australia and the world; her newest play, The Female Of The Species, received its UK premiere in London's West End in 2008.  Of Bombshells, she says "Where once women went mad suppressing their ambitions or dreams, they now drive themselves mad trying to fulfill them all simultaneously…humour, in the end, is our saviour."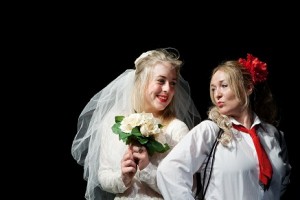 Jasango's Irish adaption has hit a chord with audiences; women and men of all ages are relating to these funny yet poignant stories.  As part of Jasango's commitment to collaboration the show features original music by The Go Away Birds and Art by Reidin O'Meara will also be on display.  Reidin's handmade textile work will also be showcased. Hand-knitted brooches and purses will be available for sale at the  recession beating starting price of 5 Euro!  Comedy, fun, laughter and even a bit of shopping; it's all happening in the Midlands this February.   The play is also linked to the Tull-Amore Matchmaking Festival.  For a full programme of events on the festival see www.tull-amore.com .Tickets are being snapped up, so early booking is advised.  To reserve tickets contact Emmett at Hugh Lynch's, or call Angela at 086-3638758.  Contact The Box Office at The Dunamaise on  057-8663355 or call 057 9122911 for tickets to the show at Birr Theatre.  You can also reach Jasango at jasangotheatre@gmail.com