LorrHA(HAHA) Variety Group Stage Comedy Play "A wake in the west".
Lorrha Variety Group will present their three-act comedy, A Wake in the West by Michael J. Ginnelly, for three nights starting on Friday 26th November. A Wake in the West is set in a small west of Ireland fishing village, as we join the story Tom Healy has just passed away and his family and friends gather for the Wake.
The story is of a wake which takes place on the west coast in a country house on the outskirts of a small town in the early 1960's. But this wake is like no others with everyone, including the corpse, getting in on the comedy.
Not content with drinking himself to death, Tom Healy makes a last request to be buried in the drink (at sea). His wish creates havoc in his house and in his local community, with some believing he is not entitled to 'take it all with him'.  In this riot of a comedy, his neighbors vie with each other to secure a piece of Tom before his exit. This absolute madcap evening of fun and frolics will leave you sore from laughter.
This play has sold out where ever it has been performed – Ennis, Castlebar, London and Chicago, so make sure you don't miss this opportunity to see it.
Audiences who have seen performances of this comedy have returned for more laughs again and again.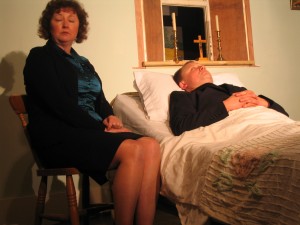 The hilarious string of events are brought to life by an excellent cast which includes Tommy  Houlihan, Catherine Power, Carmel Slevin, Peter Seeman, James Heenan, Mark Houlihan, Suzanne Corcoran, Rose Harding, Andrew Dagg and is directed by Jim Hynes.  Tickets cost €10 and €5 for children and OAPs.
Don't forget dates Friday, Saturday and Sunday – 26th, 27th & 28th November.