Rehab Waterways Adventure Visits Lough Boora Parklands, Co Offaly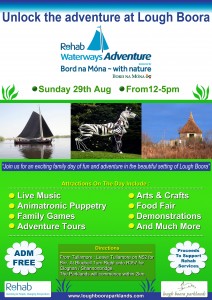 On Saturday, 21st August 2010, the Rehab Waterways Adventure will officially launch from Sallins, Co Kildare, proudly supported by Bord na Móna. The adventure will see the heritage boat, the Neuwe Zorgen, set sail for two weeks visiting towns and villages throughout the Midlands – including Edenderry, Tullamore, Athlone and Lanesboro – on an awareness-raising and fundraising adventure for Rehab.
Each stop on the Rehab Waterways Adventure will be marked by a public event with entertainment for all the family. The adventure ends on Saturday, 4th September, when the three-person crew of Eric Kemp, Michael Kemp and Michael Ward, docks the boat at Carrick-on-Shannon for one final event.
Visitors to the many local events taking place en route will not only enjoy a host of family entertainment but will also get to see the Neuwe Zorgen up-close. Built in The Netherlands in 1904, the boat is unusual in that it boasts a 60-foot mast enabling it to sail on canals, rivers, lakes and seas – it can even sail comfortably in Force 6 conditions. The boat's long and colourful history includes a likely sinking by the Dutch to hide it from the Nazis during the Second World War.
Rehab Waterways Adventure Visits Lough Boora Parklands
The highlight of the Rehab Waterways Adventure will take place on Sunday 29th August, when the Neuwe Zorgen will enter the Lough Boora Parklands, a beautiful landscape in Co. Offaly. Located a little over an hour's drive from Dublin (just off the N52 Tullamore to Birr Road), the parklands are owned by Bord na Móna and demonstrate its commitment to long-term environmental concerns, bio-diversity and its "contract with nature" philosophy.
Lough Boora consists of a magnificent collection of natural and man-made lakes, along with 50km of walkways and pastureland that provide a new habitat for flora and fauna. A range of activities will take place on the day to celebrate the adventure with guided walking trails, face painting, balloon modelling, live music, along with other family entertainment and attractions on site on the day.