President Obama's Irish ancestral village Moneygall to feature in new Corrigan Brothers Video-Welcome home President Barack Obama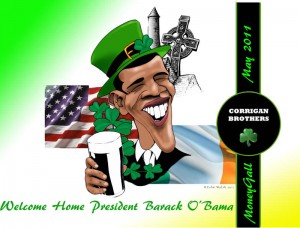 Corrigan Brothers and a cast of Hundreds In President Obama's Irish Ancestral Village of Moneygall Ireland.
Corrigan Brothers the Irish band who had the international hit "There's no one as Irish as Barack Obama" , http://www.youtube.com/watch?v=HplZ_taHXLM
amassing almost seven million you tube hits will join the population of Moneygall on Saturday 26th of March to shoot a video for their new single "Welcome Home President Barack Obama". The brothers who played at the President's Inauguration and became the first band to busk outside the White House will film their new song "Welcome Home President Barack Obama" in the small village of Moneygall with many of the villages inhabitants participating. Lead singer Ger Corrigan said "we are excited about the President's visit and we look forward to him joining us to sing the song. It is great to have the opportunity to make a video in the village with all the community. We will have the President's Cousin Henry Healy making an appearance as well as local Rector Stephen Neill and most importantly the man who owns the best ever pub in an ancestral home of a President Mr Ollie Hayes! All aspects of Irish life will be represented and we hope to have every one of the 209 population in the video".