Ecodesign: new EU rules to make sustainable products the norm
Aim is to make products last longer and be easier to repair, upgrade, recycle

A ban on the destruction of unsold textiles and electronic appliances

Commission to prioritise ecodesign requirements for e.g. steel, textiles, furniture, tyres, chemicals
The Environment Committee put forward its proposals to make products in the EU more environmentally friendly, circular and energy efficient throughout their lifecycle.
On Thursday, the Committee on the Environment, Public Health and Food Safety (ENVI) adopted its position on revising the EU's ecodesign framework for sustainable products with 68 votes in favour, 12 against and 8 abstentions.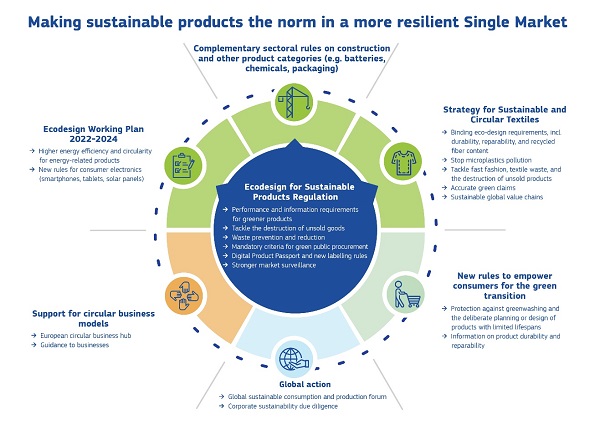 Longer product lifespans and better-informed consumers
The report bans premature obsolescence, which means that manufacturers must not limit the lifetime of a product through design features and must make available software updates, consumables, spare parts and accessories for an appropriate period. Products should also be easy to repair and consumers should have access to repair guidelines.
Products may only be sold if accompanied by a "product passport", containing accurate and up to date information. This passport would enable consumers and businesses to make informed choices when purchasing products, facilitate repairs and recycling, and increase transparency about the environmental impact of what they are buying. MEPs want consumers to be able to compare product passports through an online platform.
Ban on the destruction of unsold products
Economic operators which destroy unsold goods would have to report the annual number and percentage of products they discarded as well as their reasons why. Based on this information, MEPs want the Commission to identify products for which a destruction ban should be introduced. Additionally, the report asks for a specific ban on the destruction of unsold textiles and footwear as well as electrical and electronic equipment, one year after the entry into force of the law.
Priority products
MEPs want the Commission to prioritise a number of product groups in its first working plan to be adopted within three months after the entry into force of the new rules. These priority products include iron, steel, aluminium, textiles (notably garments and footwear), furniture, tyres, detergents, paints, lubricants and chemicals.
Quote
Rapporteur Alessandra Moretti (S&D, IT) said: "It's time to end the "take, make, dispose" model which is so harmful to our planet, our health and our economy. This law will ensure that new products are designed in a way that brings benefits to all, respects our planet's boundaries and protects the environment. Sustainable products will become the norm allowing consumers to save energy, make repairs easier and make smart environmental choices when they shop, saving themselves money in the long run."
Next steps
The report is scheduled to be adopted during the July 2023 plenary sitting and will constitute Parliament's negotiating position with EU governments on the final shape of the legislation.
Background
On 30 March 2022, the Commission put forward a proposal for a regulation to establish a general framework for setting ecodesign requirements for sustainable products and to repeal current rules which focus on energy-related products only. The revised rules would apply to almost all products on the internal market (except food, feed, medicinal products, living organisms). The proposal is part of a circular economy package, which also includes a EU strategy for sustainable textiles and a proposal on empowering consumers for the green transition.