Public Image Ltd. Announce New Album 'End of the World' To Be Released On August 11th; New Song "Penge," Out Today
HEAR NEW SINGLE PENGE
Public Image Ltd. (PiL) have decided to continue plans to announce their 11th studio album and first album in 8 years, End of World, today, following the sad passing of John's wife of more than 4 decades, Nora Forster, on 5th April. End of World will be released on 11th August 2023 on PiL Official via Cargo UK Distribution, followed by a 38-date UK and European Tour.
Earlier this year, PiL released "Hawaii," the most personal piece of songwriting and accompanying artwork that John Lydon has ever shared. The song is a love letter to John's wife Nora, who sadly passed away from Alzheimer's on Wednesday 5th April. A pensive, personal yet universal love song that has resonated with many since its release in January, the song sees John reflecting on their lifetime well spent and in particular one of their happiest moments together in Hawaii. John said, "Nora loved the album, she wouldn't have wanted us to postpone it or change any of our plans." Previously he has said of "Hawaii," "It is dedicated to everyone going through tough times on the journey of life, with the person they care for the most."
The band began writing and recording End of World in 2018, during their 40th anniversary tour. After The Great Pause, the band regrouped in the studio and "there was just this massive explosion of ideas," Lydon says. The result finds PiL set to release 13 of the best tracks they have ever written.
The announcement comes with the release of new single "Penge," which John has described as, "something of a mediaeval Viking epic."
Click above to hear the new Public Image Ltd. single "Penge," out now. Watch/share "Penge".
Celebrating their 40-year anniversary in 2018, the band is widely regarded as one of the most innovative and influential bands of all time.
PiL's music and vision has earned them 5 U.K. Top 20 singles and 5 U.K. Top 20 albums. With a shifting line-up and unique sound – fusing rock, dance, folk, pop and dub – Lydon guided the band from their debut album First Issue in 1978 through to 1992's That What Is Not, before a 17-year hiatus. Lydon reactivated PiL in 2009, touring extensively worldwide and releasing two critically acclaimed albums This is PiL in 2012 followed by their 10th studio album What The World Needs Now… in 2015, which peaked at #29 in the official U.K. album charts and picked up fantastic acclaim from both press and public. (The album also peaked at number 3 in the official UK indie charts and #4 in the official U.K. vinyl charts). What The World Needs Now… was self-funded by PiL and released on their own label 'PiL Official' via Cargo UK Distribution. In 2018 PiL celebrated their 40th anniversary with a career-spanning box set and documentary film, both called 'The Public Image Is Rotten', and a 32-date U.K./Europe tour, plus dates in Japan.
John Lydon, Lu Edmonds, Scott Firth and Bruce Smith continue as PiL. They are the longest stable line-up in the band's history and continue to challenge and thrive.
PiL will be touring the U.K. and Europe in September and October 2023 – dates below.
Press quotes for lead single "Hawaii', which was released in January:
"A beauteous and touching love song" – Mojo
"Uncharacteristically soul-bearing" – Pitchfork
"an understated and emotional ballad" – Rolling Stone
"a swooning, poignant ballad awash with memories of happier times… He's remarkably tender as he croons: "Don't fly too soon / No need to cry, in pain / You are loved." It's the vulnerability that is most striking. Lydon's love for his wife shines through like sunrays breaking through clouds, casting everything in a golden light: "I remember you," he reassures her. He's backed by harmonising chants of "aloha", the Hawaii term that is both a greeting and a farewell. It's a message from the heart, overflowing with spirit and compassion. What better word for what Lydon is trying to convey here?" – The Independent
"a beautiful and rueful ballad written by Lydon to his wife Nora, who suffers from Alzheimer's. It's a peach of a track: both pensive and personal, it reflects on one of their happiest times together in Hawaii. "Remember me / I remember you… You are loved," not-so-Rotten sings over a lush soundscape of gently twanging guitars vaguely reminiscent of Fleetwood Mac's Albatross." – The Telegraph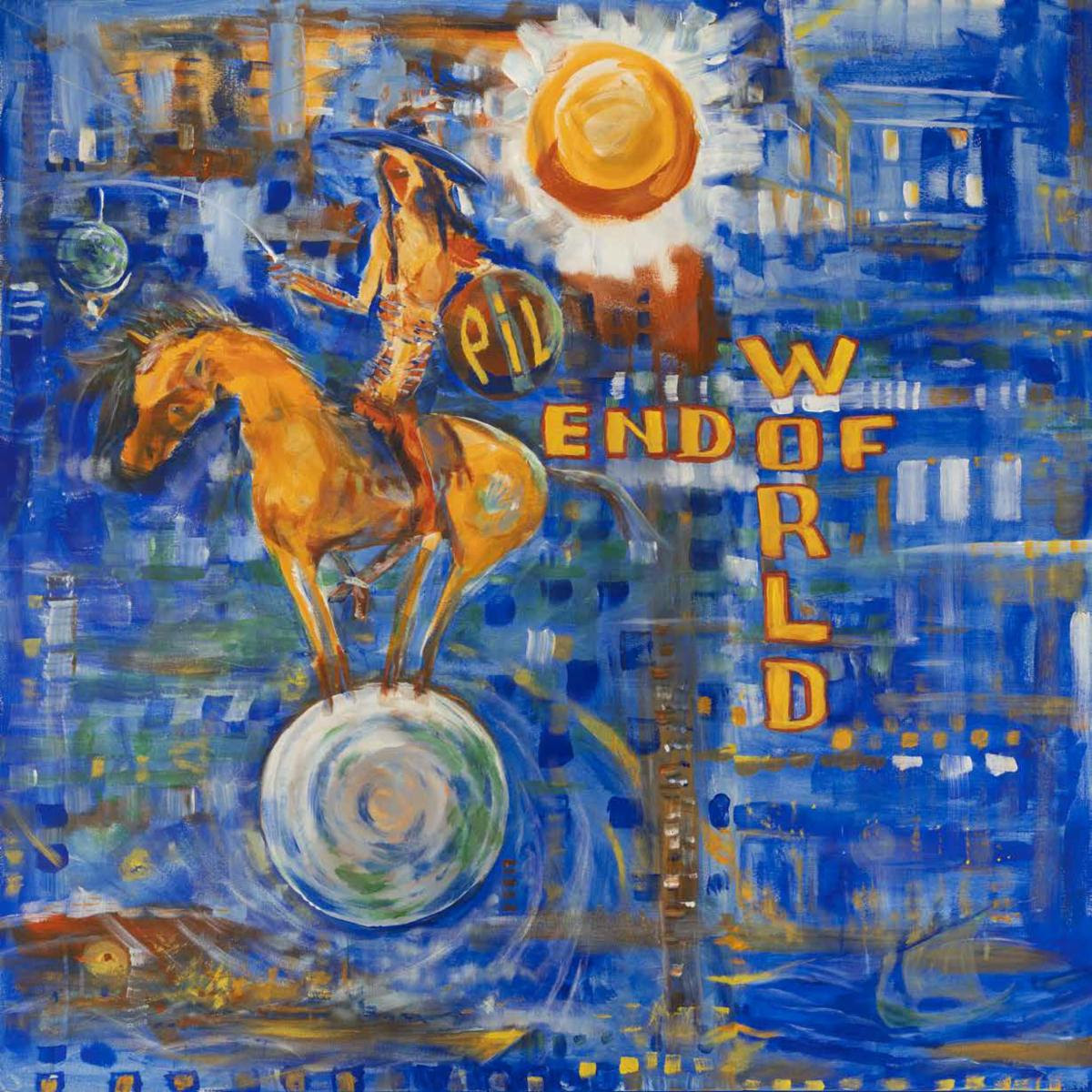 Download End of the World album cover artwork painted by John Lydon: HERE.
©: John Lydon.
Track listing for End of the World:
"Penge"
"End Of The World"
"Car Chase"
"Being Stupid Again"
"Walls"
"Pretty Awful"
"Strange"
"Down On The Clown"
"Dirty Murky Delight"
"The Do That"
"L F C F"
"North West Passage"
"Hawaii"
Public Image Ltd. current global tour dates: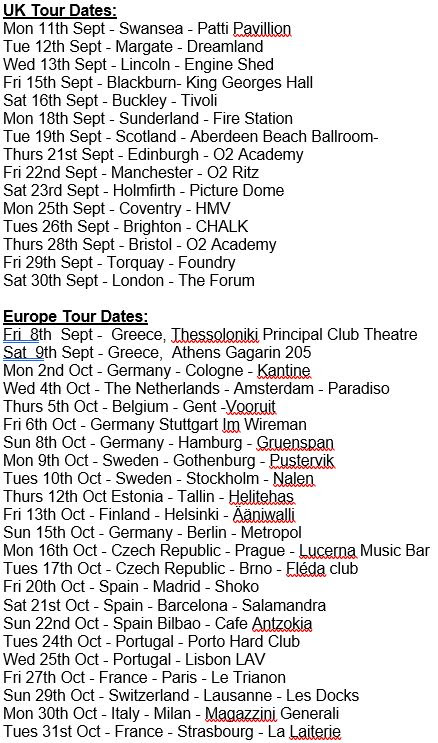 John Lydon – After fronting the Sex Pistols, John Lydon formed Public Image Ltd. in 1978. Outside of PiL, John has released several solo records and collaborations. He also brings quality TV to the masses. He has released two autobiographies; Rotten: No Irish, No Blacks, No Dogs in 1994, and Anger is an Energy: My Life Uncensored in 2014. He then released Mr Rotten's Songbook in 2017, which features never before seen artwork as well as annotated song lyric sheets spanning John's entire career, all written in his own hand.
Lu Edmonds – Multi instrumentalist and former guitarist in The Damned, Lu joined PiL in 1986 recording and playing on the album Happy? and co-writing the album 9, adding yet another dimension to the PiL sound.
Bruce Smith – Drummer in The Pop Group and formerly of The Slits Bruce became percussionist for PiL in 1986 playing and recording on the albums Happy? and 9. Seen as a drumming virtuoso, Bruce brought his unique style into the fold.
Scott Firth – A bass player/multi-instrumentalist that has collaborated and played with a variety of top musicians and bands including Steve Winwood, John Martyn and Elvis Costello. Scott is the newest member of the band, having joined in 2009.
 WWW.PILOFFICIAL.COM | TWITTER | INSTAGRAM | FACEBOOK | YOUTUBE