Heinz Tomato Ketchup Releases Ridiculously Slow All-Red Puzzle To Pass The Time
Heinz Tomato Ketchup Releases Ridiculously Slow All-Red Puzzle To Pass The Time.
As social distancing and self-isolation become the norm, a nostalgic favourite is back and trending in social feeds: the puzzle. As online searches for jigsaw puzzles have rocketed in Ireland since the Covid-19 lockdown began, and as one of the country's only jigsaw and puzzle companies' sales go 'through the roof', Heinz Tomato Ketchup has released a puzzle of its own with 570 pieces, all identical Heinz red. It might just be the world's slowest puzzle ever made.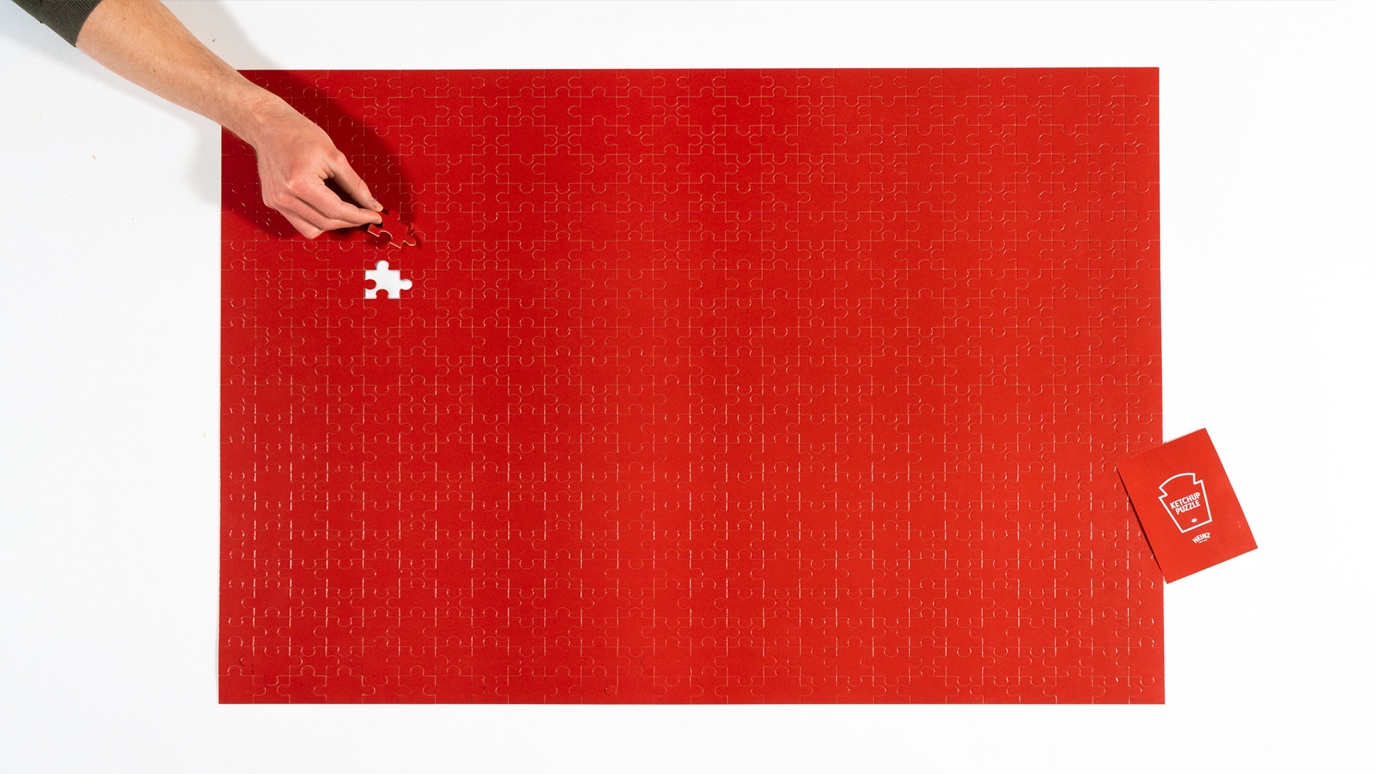 "Heinz is known for its iconic slow-pouring ketchup. In a period when everyone has a little more time on their hands and puzzle popularity has skyrocketed, we wanted to help pass the time by connecting the two." says, Emily O'Kane, Marketing Manager, Heinz Ireland. "We're always looking to deliver fun, contextually relevant ways to give Heinz Tomato Ketchup lovers a smile, and this ridiculously slow, all-red Heinz Tomato Ketchup puzzle felt like the perfect fit."
Heinz knows that good things take time. Just like the satisfaction you get when ketchup hits your fries following the perfectly slow Heinz Tomato Ketchup pour, this puzzle is worth the patience, only this time, holding it at the perfect angle won't solve it.
Whether you live alone, with family or roommates, this puzzle is designed to entertain those aged three and up and provide a sense of happiness during these unprecedented times, as the Irish start to embrace a slower pace of life.
Heinz is giving away 57 puzzles to ketchup lovers in 17 countries around the world. In Ireland all you have to do is head over to https://www.facebook.com/heinzIRL/ or @HeinzIRL on Instagram commenting on the post sharing who you wish you could finish the puzzle with to be in with a chance of winning one of 57 puzzles. The competition will run from 6th  – 8th May.
TOP FACTS YOU DIDN'T KNOW ABOUT HEINZ TOMATO KETCHUP AND JIGSAWS
The recipe for Heinz Tomato Ketchup was created by Henry John Heinz, but it wasn't his first product as he initially began making horseradish sauce in 1869 based on his mother's recipe.  Heinz Tomato Ketchup was then launched in 1876.
The first jigsaw puzzles were made in 1766 by Berkshire map-maker John Spilsbury. They were maps of the British Empire cut into pieces.[1]
Heinz Tomato Ketchup exits the iconic glass bottle at 0.028 miles per hour. If the viscosity of the ketchup is more or less than this speed, the ketchup is rejected for sale.
The time it takes to finish a jigsaw is roughly in proportion to the square of the number of pieces, so doubling the pieces quadruples the difficulty. [2]
To release ketchup faster from a glass bottle, here is a little secret from Heinz. The sweet spot to tap on the Heinz bottle is the label on the neck. All you need to do is apply a firm tap where the bottle narrows, and the ketchup will come out easier.
The Guinness World Record for completing its official 250-piece jigsaw is 13min 7sec.[3]
The name ketchup takes inspiration for the name from a Chinese fermented fish sauce called Koe-chiap.
Puzzles for adults became popular around 1900, and by 1908 puzzles were a staple of the wealthy. Wooden puzzles were expensive and would have been a luxury for working people. Over time, cardboard puzzles became a less expensive option, making puzzling available to everyone.[4]
Apparently, it was common during the Great Depression in the early 1930s for people on the breadline to add Heinz Tomato Ketchup to a cup of hot water, transforming it into a "hot tomato soup".
During the Great Depression, puzzles offered people a quiet, inexpensive escape from the troubled economy. In 1932, a new concept emerged: a weekly puzzle. The "Jig of the Week" was sold at newsstands every Wednesday. In February of 1933, puzzle production reached an all-time high of 10 million puzzles per week.[5]
Sales of Heinz Tomato Ketchup boomed until the interruption of WWII, when tomato supplies were cut off to the British ketchup factory in Harlesden leaving people to rely on Heinz Salad Cream instead.
Sales of wooden jigsaw puzzles fell after World War II as improved wages led to price increases, while at the same time improvement in manufacturing processes made paperboard jigsaws more attractive[6]
During the American Civil War in the 1860s, bottled foods like tomato ketchup helped feed Northern troops fighting in the South. Soon after, producers like Henry John Heinz started saving home cooks the bother of making the newly popular tomato sauce with their own ready bottled versions, of which Heinz's Tomato Ketchup quickly became the most popular and the most famous.
The largest commercially available jigsaw puzzle has 52,210 pieces. But the jigsaw with the greatest number of pieces had 551,232 pieces and measured 14.85 × 23.20 m (48 ft 8.64 in × 76 ft 1.38 in). It was assembled on 25 September 2011 at Phú Thọ Indoor Stadium in Ho Chi Minh City, Vietnam, by students of the University of Economics, Ho Chi Minh City.[7]
Heinz doesn't put any colouring in their ketchup, relying purely on the redness of their tomatoes to the job for them. The natural red pigment found in tomatoes is called lycopene. Evidence shows that it is also a powerful antioxidant.
Limited Edition Heinz Ketchup 'Where's Wally' bottles were created and available to buy in Japan in 2016, with 10 designs featuring Wally and a few of his friends such as Wendy, Woof and the magical Wizard Whitebeard.
Heinz Tomato Ketchup isn't just consumed around the world, it's even enjoyed in space! In 1999, NASA approved Heinz Tomato Ketchup for use onboard the International Space Station. It had to be tested by food scientists, dietitians and engineers before being approved.
A recently launched 1,000-piece earth puzzle celebrates one of NASA's best planetary pics – 26.5-inches in diameter, the puzzle's difficulty level is described as medium-high and features birds-eye view of various landscapes, deserts, jungles, cloud patterns and other natural wonders.
In 2019, the format of Heinz Tomato Ketchup was changed for the first time in its nearly 145-year history to create 'Ketchup Caviar', a jar of delicious pearls that burst with the taste of Heinz Tomato Ketchup in every bite. The limited-edition jars were available to win on social media in 12 countries around the world including the USA and Russia to mark Heinz's 150-year anniversary.
Ed Sheeran, who Heinz famously collaborated with last year, has tattoos of Heinz Tomato Ketchup bottle AND jigsaw puzzles pieces on his body. These tattoos were immortalised on 150 limited-edition Ed Sheeran x Heinz Tomato Ketchup, The Tattoo Edition bottles, the first of which sold for £1,500 at auction in the famous London auction house Christie's.  Fans can view the remaining bottles on display at the Victoria & Albert Museum in London (UK), the Senator John Heinz History Center in Pittsburgh (US), the Hard Rock Café in Amsterdam (Netherlands), the Hard Rock Café in Sydney (Australia) and TANK museum in China.
The 17 countries taking part in the competition are:
Canada
USA
UK
Ireland
Sweden
Denmark
Poland
Australia
New Zealand
Japan
Brazil
France
Chile
Argentina
Czech Republic
Romania
Korea
[1] https://en.wikipedia.org/wiki/John_Spilsbury_(cartographer)
[2] https://www.express.co.uk/life-style/top10facts/616404/Top-10-facts-jigsaws-puzzles
[3] https://www.guinnessworldrecords.com/world-records/fastest-time-to-complete-the-gwr-hasbro-puzzle/
[4] https://www.seacoastonline.com/ZZ/sponsored/20190103/more-than-hobby-relaxing-fun-healthy-history-of-puzzles
[5] https://www.wtxl.com/online_features/senior_living/little-known-facts-about-the-history-of-jigsaw-puzzles/article_e4d8c822-be31-511e-9d08-0ba386314005.html
[6] https://en.wikipedia.org/wiki/Jigsaw_puzzle