High Achieving Offaly Students Awarded Sports Scholarships
The Institute of Technology Carlow (IT Carlow) this week awarded 35 academic scholarships and 83 gold and elite sports scholarships for the 2014/2015 academic year to students who have distinguished themselves, both academically and through their exceptional sporting ability.
The recipients included three students from Offaly who all received Gold Sports Scholarships. They are pictured together after the ceremony at IT Carlow. They are, from left: Siobhan Flannery (Camogie); Conor Doughan (hurling) and Ann Marie Guinan (Camogie). Also pictured are Siobhan and Ann Marie having fun before the ceremony with their fellow camogie scholars.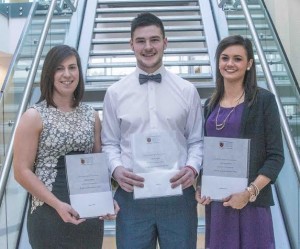 Conor, who was Offaly Under-21 Hurler of the Year in 2014, was also centre-back on IT Carlow's All-Ireland winning Fresher Senior Hurling League teams. He is a student on IT Carlow's BA Sport & Exercise (GAA) course. Siobhan, who plays for St. Rynaghs, was a camogie All-Star nominee for 2012, 2013 and 2014 and was a members of the winning camogie team that won the Fr. Meaghair Cup in 2014 and 2015. Anne Marie, who plays with Drumcullen club, is a BA Media & Public Relations student at IT Carlow. He has five Leinster titles with Offaly and is an All-Ireland Minor winner (2013). Anne Marie plays wing forward for IT Carlow and is a member of the team that won the Fr. Meaghair Cup with IT Carlow in 2014 and 2015.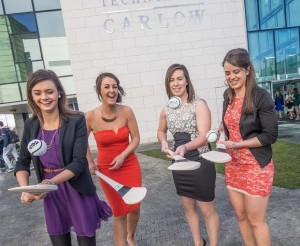 IT Carlow's Academic Scholarship initiative sees the Institute award one scholarship per course to the student who achieves the highest points in the Leaving Certificate. The Institute's scholarship programme commenced in 2004/05 and is now has one of the most generous in the country. The Sports Scholarship programme at IT Carlow, now in its 16th year, offers a support package and/or bursaries to students of exceptional sporting ability. The number of scholarships offered to students has more than doubled since the programme was introduced in 1999, reflecting IT Carlow's renown as one of the leading third-level sporting institutions in the Ireland and a modern hub for sporting excellence with a growing academic portfolio of sports programmes.
This year saw the introduction of a new Elite Scholarship strand to recognise the Institute's very best athletes competing at the very highest level in their chosen sport. Seven students was recognised as elite scholars for their huge contribution to sport. They are: Aidan Fogarty (Hurling); Brendan Murphy (Gaelic Football); Marcus Lawler (Athletics); Rachel Graham (Soccer) and, in basketball, Jason Killeen, Pat Connaghan and Jess Kocci.
During the scholarship ceremony, IT Carlow also announced details of its High Performance Entry Scheme, a new departure for the Institute that will award up to 50 extra CAO points for students who excel outside the classroom in three key areas:  Innovation/Entrepreneurship, Active Citizenship and Sport. Twelve places – four in each of the three categories – will be offered for the academic year 2015/2016.
IT Carlow consistently features highly in the CAO first preferences for Institutes of Technology, according to the Institute, which sees an annual average of 12,000 students apply for up to 70 Higher Certificate and Degree courses via the CAO. Since its founding in 1970, IT Carlow has generated more than 40,000 graduates. It currently ranks as the fourth largest of Ireland's 14 Institutes with 7,500 enrolments.