Cloughjordan School Celebrates it's fourth green flag
Cloughjordan Church of Ireland National School will raise its fourth green/environmental flag on June 14th at 11 am. To celebrate the occasion all 93 pupils will perform a special song that they have written, with the help of their teachers Yvonne Ryan and Jean Ryan accompanied by The Corrigan Brothers and Aaron Neill.
The Song which has an environmental theme along with a wonderful piece of choreography celebrates all of the environmental initiatives that have helped in attaining the school's fourth green flag.
Ger Corrigan singer and guitarist with the Corrigan Brothers said "We are delighted to be involved in this special event, I have seen the song performed in rehearsals and it is wonderful, the energy and talent of the pupils and teachers is inspiring. We are really looking forward to performing this song live with the entire school community."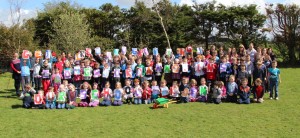 The school earned its first green flag for litter and waste management in 2007. School principal Ivor Hayes said "Participation in the Green Schools programme over many years has been a hugely enriching experience for the school, and by extension the home and wider community. We are delighted to have achieved Green Flags for litter and waste management, reducing energy consumption, reducing water consumption and promoting sustainable modes of travel. It has been a particular pleasure to see true teamwork in action throughout this process with all sectors of our school community working in unison and nurturing life changing habits in environmental education."
 School Chairman Canon Stephen Neill praised the staff and pupils, Yvonne, Jean, Teresa, Una, Noreen, Jennifer, Ivor, Louise, Maria, Amanda, Emma and Linda. 'The children have really got behind this project from day one. Ms Louise Cromer (Deputy-Principal) who co-ordinates the Green Flag programme in the school has kept the momentum going over the past number of years and the children have been unfailingly enthusiastic and innovative in working towards the various flags. Their commitment to the environment is encouraging in light of the environmental challenges we all face in the years ahead."
The ceremony will be attended by parents, grandparents and friends of the school and members of the wider community as well as our inspirational Green Schools Travel Officer, Ellen O'Sullivan. We are delighted to welcome the Junior Infant children who will be joining our school In September and their families. The school is particularly pleased to welcome back Mrs. Joan Larke, former school principal, who retired a number of years ago to raise the flag on the day. The flag raising ceremony and performance of the song will be followed by our annual school sports day.  We are looking forward to another wonderful occasion at our school and celebrating with our many friends.