Waging Peace: Author Rosalie Riegle Discusses Her Book Crossing the Line: Nonviolent Resisters Speak Out for Peace 8th June Cloughjordan
How is it possible to wage peace? Throughout her life, historian Rosalie Riegle has addressed this question through direct anti-war activism and in her books. Her latest book, Crossing the Line: Nonviolent Resisters Speak Out for Peace, brings together oral narratives from sixty-five peacemakers who have said no to war-making in the strongest way possible: by engaging in civil disobedience and paying the consequences in jail or prison. Crossing the Line gives voice to often neglected social history and provides provocative stories of actions, trials, and imprisonment from throughout the twentieth and twenty-first century, including World War II and the Iraq War.
Crossing the Line serves as an excellent supplement to conventional histories. Almost all the storytellers are people of faith or are inspired by those who live by faith. Many work at conventional careers; some do full-time peacemaking by living in Catholic Worker houses or in the Jonah House community; several are priests and nuns who minister worldwide.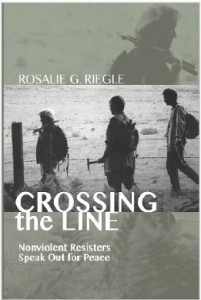 From World War II conscientious objectors to contemporary activists, these narrators have refused to be helpless in the face of a violent world, and have said with their bodies that they do not accept the status quo of permanent war and war preparation. In short, the voices illustrate hope at a time when it seems in short supply.
Among the riveting narratives in Crossing the Line is the dramatic story of the action and trials of the Shannon Five peace activists who non-violently dismantled a US war plane which had stopped in Ireland on its way to Iraq. At the discussion on 8 June, Rosalie will be joined by Deirdre Clancy, one of the participants in the Shannon action, and together they will describe the action where Deirdre and four others broke into Shannon airport and engaged the US military.
Riegle is a peace activist and oral historian from Michigan and Illinois. As a young adult, she lived a conventional life as a Catholic wife and mother. After meeting Dorothy Day, the co-founder of the Catholic Workers, Rielge became active in non-violent resistance to the Vietnam War. Riegle taught English for 33 years at Saginaw Valley State University and co-founded two Catholic Worker houses in Saginaw, Michigan. Riegle is visiting Ireland in part to explore alternative communities, historical and contemporary.
The book event is preceded by a free tour of the ecovillage at 3pm and a bring-and-share meal at 6.30pm in Django's hostel. For more information, contact Sheelagh na Gig bookshop on 0505 42123.