Offaly singer songwriter Mark Boylan's 'A Song for Campbell'
Mark Boylan is a young singer/songwriter from Banagher, Co. Offaly and has had some success with some of his Horse Racing Themed songs which have resulted in some amazing experiences including playing for 60,000 people aged 13 at Cheltenham, touring with the High Kings and playing in Vicar Street also aged 13. He has also been flown to America to perform his composition (Which became the World Championship theme for Breeders Cup 2011) in front of 70,000 people and millions on TV. He is 15 years old now and spent last summer playing his music in California and Holland.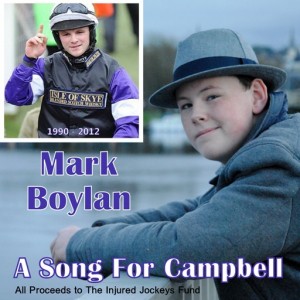 Mark was asked to write a song a few months ago in remembrance of a young jockey from Scotland called Campbell Gillies who died last June in an accident in Corfu while he was there to celebrate his 22nd Birthday. Campbell had become the first Scot in ten years to ride a winner at Cheltenham just three months previous. Mark was reluctant to take on this venture given the sensitivity of the subject but when he was contacted by Campbell's Mother, he couldn't refuse.
Mark told us "It was an emotional journey writing the song, especially having been told that Campbell loved my music and played my CD constantly in his car. Anyway, I wrote the song and released it on iTunes last Thursday with ALL proceeds going to the Injured Jockeys Fund (Who fly Campbell's body home from Greece) and the reaction has been phenomenal. My composition 'A Song for Campbell' is currently Number 14 in THE UK SINGER/SONGWRITER iTUNES DOWNLOAD CHART, which is quite amazing. It features alongside songs by Jake Bugg, Damien Rice, Boyce Avenue and is positioned a few places ahead of Ed Sheeran's 'A-Team' and Eva Cassidy's 'Songbird'. My song actually spend a period at Number 2 over the weekend. I have been contacted by many members of the Scottish and English Media who have really gotten excited by the whole song/story etc and the Family are delighted as it is providing a fitting tribute to Campbell."
The song received over 10,000 views on the Youtube in 2 days and over 1400 tweets. In fact one Fan in Scotland has had the lyrics tattooed on her body !
The song is available to download on iTunes by searching 'A Song for Campbell' and is also on Amazon. You can also view the video below