Come experience the Ecovillage….as it is being created
Cloughjordan Ecovillage in County Tipperary is hosting an Experience Weekend on June 23rd-24th. The event offers a great opportunity to learn about many aspects of life in Ireland's first ecovillage and to develop the knowledge and skills needed for sustainable living.
Learn about organic food growing, renewable energy, community resilience, green building and much more. As well as a range of seminars you can take part in  a detailed tour of the ecovillage and an introductory workshop on earth building. The programme also includes many practical ways that you can lower your cost of living and your carbon footprint at the same time.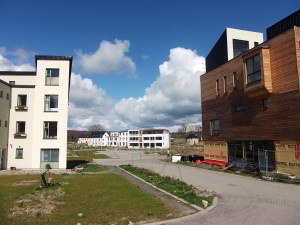 The weekend concludes with a session exploring ways that you can use these concepts and fresh insights in your own community and daily life.
Come on your own or with friends and you will receive a warm welcome  in the Cloughjordan community. Accommodation is available at Django's Ecohostel.
Cloughjordan Ecovillage
Cloughjordan Ecovillage a leading contributor to education for sustainability. The Experience Weekend programme is delivered by ecovillage members and offers a chance to visit, learn and contribute to the ecovillage as it is being created. The Ecovillage is located in the heart of Cloughjordan which was awarded the title of Best Green Community at the 2012 National Green Awards.
Experience Weekend 23 -24June 2012
The Weekend starts on Saturday at 11 a.m. and ends on Sunday at 3pm.
Cost: €60 (€40 concessions) for full weekend programme. Hostel accommodation (not included) available from €20 per night (see www.djangoshostel.com). Meals not included.
Enquiries:
Email learning@thevillage.ie
Tel +353 (0)505-42833
Bookings:
www.thevillage.ie
Programme
June 23-24 Weekend Programme includes:
l        Introductory Session
l        Tour of the Ecovillage
l        Getting the Most out of a Vegetable Garden
l        Green Building in Cloughjordan Ecovillage
l        Renewable Energy at Home
l        Dirt Cheap Construction- An Introduction to Cob Building
l        Community Meitheal
l        Skills for Facilitation and Communication
l        Learnings to Take Home to Your Community
Programme Details
Introductory Session
This sets out the programme for the weekend and includes a presentation on the Cloughjordan Ecovillage, covering the history, principles and aspirations of the project.
Tour of the Ecovillage
A detailed tour of the ecovillage after more than 50 homes have been built and the landscaping of the estate is fully underway. Includes a view of the community heating system and the 17,000 tree native woodland planted in 2010.
Community Meitheal
In Irish word 'Meitheal' evokes the sense of community spirit that brings groups of neighbours and friends to work and create together. In this Meitheal you can work with the ecovillage community on a gardening project and leave a lasting- and much appreciated- legacy of your visit to Cloughjordan
Getting the Most Out of a Vegetable Garden
Learn how to work with plants and soil life so that your garden is healthy and productive. This course will introduce the theories and practical issues that form the basis of a much of the common gardening advice. This course is being facilitated by Bruce Darrell, co-founder of the Dublin Food Growing initiative, and currently developing a series research gardens as part of the ecovillage which explore different methods of growing vegetables.
Green Building in the ecovillage
The ecovillage is a test ground for a wide range of green building materials and techniques. In this session, Dave Flannery presents an overview of building types in the ecovillage, including timber frame, lime & hemp, earth and clay. The session will also cover the low cost build initiative in the ecovillage led by Dominic Stevens. Dave Flannery is the sales manager for the ecovillage and has recently finished his own self-build home.
Renewable Energy at Home
How do we keep our energy bills down when oil has doubled in price in the past three years? Duncan Martin explains the sources of renewable energy, debunks the hype in the advertising and identifies the best bets for the home.  The session will be designed for complete beginners but opportunity will be provided for those with relevant experience to share it with the group. Duncan has been involved in the design and operation of the district heating system in the ecovillage since 2003. A Chartered Engineer and Chartered Environmentalist, he was formerly Senior Lecturer at the University of Limerick.
Skills for facilitation and communication
Trish Kinsella explores concepts of communication and facilitation, and addresses the challenges of working in non-hierarchical groups, communities and organisations. This course also looks at how these techniques and processes are used in the consensus-based Cloughjordan Ecovillage. Trish is a trained facilitator and has worked extensively on the development of the ecovillage's organisational structure.
Dirt Cheap Construction- An Introduction to Cob Building
Take the first steps towards building a home for yourself with the earth beneath your feet. Find out how mud and straw can be used to sculpt cheap but beautiful structures and try it for yourself on the day. Please bring a change of clothing and footwear, something you don't mind getting muddy. This course is being facilitated by Eileen Flanagan, a structural engineer and artist who is currently putting the finishing touches on her own earth house in the ecovillage.
Learnings to Take Home to your Community
The final session of the weekend creates an interactive space that brings together many of the themes and concepts discussed over the weekend. In this facilitated discussion, we work together to assess how we can bring these principles of sustainability, resilience and inclusiveness to our communities and daily lives.