Offaly Youth Theatre Officially Launched
Sunday 15th April 2012 saw another exciting step forward for youth arts in Offaly with the Official Launch of Offaly Youth Theatre at Birr Theatre & Arts Centre.  Established following a very successful pilot programme in 2010, it advocates the inherent value and the unique relationship between young people and theatre and is committed to extending and enhancing their understanding of this by raising artistic standards across the county.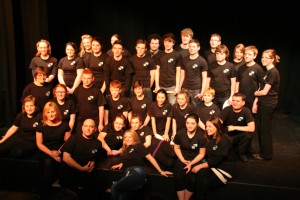 Open to all young people between the ages of 14 and 18, weekly workshops run for two terms annually, developing participant's acting abilities in innovative ways with an ethos of placing more emphasis on the Process of developing theatre skills, more than the Product or pressure of putting on a performance.  While performing is part of the experiences they will learn, importantly it also provides the young members with opportunities to develop social and personal skills and positive self-esteem.  At present there 34 members between three chapters; in Birr, Banagher and Tullamore with plans underway to expand into Edenderry in late 2012 thus fulfilling the intention for it to be a long term developmental theatre project for young people throughout Co. Offaly.
This project is facilitated by committed local theatre professionals (Macdara Deery, Angela Ryan and Anne Clarke) who have experience in developing theatre with young people.  There is also a board of directors who are committed to developing and sustaining the project; Cllr Molly Buckley (Chair), Marcella Corcoran Kennedy TD, Sinead O'Reilly, Arts Officer Offaly Co. Co., Brendan Hanamy, Eddie Alford and Emma Nee Haslam.  The project is funded by Offaly County Council with fees kept low to maximise accessibility.
Speaking at the launch Cllr. Molly Buckley, Chairperson of Offaly Youth Theatre said "Offaly County Council is delighted to be in a position to support Offaly Youth Theatre.  It was one of the main objectives of our Arts Plan for 2007-2011 and now in our new Arts Plan for 2012-2016 we have prioritised youth arts development even more.  We believe that facilitating projects in which young people can freely and safely be expressive is investment into their capacity to be confident, independent and innovative thinkers.  This is not necessarily about creating Oscar winning actors, although wouldn't that be great, but about being able to imagine that anything is possible."
Guest Speaker on the afternoon, Sam Keeley who starred in "The Other Side of Sleep" which recently had it's premiere in Birr Theatre & Arts Centre and RTÉ drama "Raw" spoke about impressed he was with the talent and creativity displayed by the members of Offaly Youth Theatre.  He also said how much he would have liked to have been involved in such a group when he was younger had it been in existence.
Offaly Youth Theatre is delighted to have Birr native; singer-songwriter, artist, illustrator and graphic designer Roesy on board as their in-house designer.  Whilst he now lives inMelbourne,Australiahe maintains close links to the community where he began his career singing along to his father's records as a boy and was delighted to become involved in this project.
Offaly Youth Theatre is supported by Offaly County Council, the Arts Council of Ireland and Birr Theatre & Arts Centre with thanks also due to the individuals, venues and schools that facilitated workshops. Offaly Youth Theatre is also affiliated with the National Association of Youth Drama.  New members are always welcome and should contact Janine on (087) 2071258 or offalyyouththeatre@gmail.com.