A Laugh @ The Source Bar! The Comedy Club presents "The Chalk & Cheese Tour"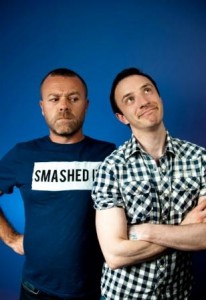 THE SOURCE COMEDY CLUB
PRESENTS
THE CHALK & CHEESE TOUR
WITH ERIC LALOR & GEAROID FARRELLY
THURS 16TH FEB @ 9PM
€12/€10 concession
Group Discount available – Groups of 6 or more pay only €10 pp! 67
Calling all comedy fans out there!!!
A night not to be missed as you get up close and personal with two of Ireland's most "in demand" comedians performing in the intimate surroundings of The Source Bar/Cafe @ 9pm Thurs 16th Feb.  And no need for beans and toast for the rest of the week with tickets on sale for just €12 and €10 concession rate!
Eric Lalor & Gearoid Farrelly are  headlining across the country and opening for some of comedy's biggest names, you might know Eric from Republic of Telly and Gearoid from The Panel.
Eric has recently returned from a massively succesful Edinburgh trip and also just did his first ever solo show in the Sugar Club which was a massive hit! Gearoid has recently finished gigs in Whelan's and various other venues around the country.
While they are both very funny, they couldn't be more different from each other, which just adds bucket loads of humour to the performance, hence the name – The "Chalk & Cheese" Tour!
These guys are hilarious and are being heralded as the next big thing in Irish comedy!  This promises to be an exciting if slightly mental night!  You'll know why once you've  seen them for yourselves!
So gather a gang together, have a beer or two and belly laugh your way through the night!  ENJOY NOW!
POP US AN EMAIL  BOOK NOW  UPCOMING EVENTS  BOX OFFICE 0504 90204