Offaly Community Games News
Offaly's Got Talent!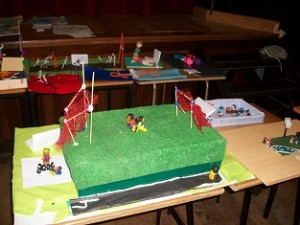 Citeaux Hall Ballyskenach was the venue for Sunday afternoons activity when the stars of the future took to the stage. The group music competition saw Shinerone/Coolderry girls Francesca Hutchinson Treacy, Kelly Feehan, Rebecca Lynch, Robyn O'Brien, Sinead O'Brien and Jacklyn Slevintake the gold medal position with a fantastic samba drumming and percussion performance. Rhode took the silver medal position with some beautiful thin whistle performances by the group who emerged from the Rhode's got talent competition earlier in the month namely, Ava Bolger, Roisin Briody, Laura Cole, Meave Cole, Eimear McNamee and Debbie Sheeran.
The solo singing competition provided quality that would be hard found at X Factor auditions and proved extremely difficult for the judging panel. Edenderry's sole representative on the day Rachael Conaghan won gold with her performance of "Somewhere over the rainbow!" accompanied on keyboards by her mother. Laura Moore from Rhode won silver while local girl Zoe Gleeson won bronze with her redition of Galway Girl.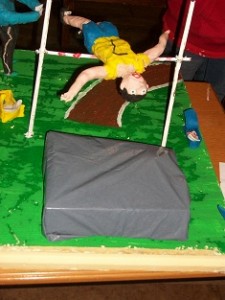 Dearbhail Nolan from the Rhode area won gold and her place at the national finals in Athlone in May for her piano performance in the solo music competition. Thomas McCauliff also on piano earned him a silver medal.
Offaly will be represented by hip hop dancer Nadia Wilson from Rhode in the solo dance category, while fellow Rhode competitor Siobhain Smith won silver in the same category.
The group singing will see the team from Shinerone/Coolderry who came fifth in last years national finals in Athlone once again represent Offaly at this years national finals, with Megan Deegan, Saoirse Lalor, Amelia Lown, Kate Lynch, Aoife Maher and Lauryn Murphy's taking to the stage with their musical performances of Popular from Wicked and You Can't Stop the Beat from Hairspray. Young Rhode girls Ciara Choudhury and Linda Moore came a very close second and we hope to see them back on stage for next years competition while the bronze medal also went to Rhode with Caoimh Claffey and Chelsea McCuskers performance.
The comedy sketch saw the unruly students of  Shinrone/Coolderry take to the stage with their hilarious school based sketch and they will be the team to represent Offaly with Dearbhail Flynn, Conor Maher, Peter Maher, Aoibhe Murphy, Ben Spencer and Ian Spencer not hanging up their costumes just yet!
Franccesca Hutchinson Treacy will represent Offaly and Shinrone in the recitation competition while Rhode's, Eimear Conway, Shauna Curtis, TOmi Odunowo, Siobhain Smith and Nadia Wilson will represent the faithful county in the group modern disco dance.
A big congratulations to all those who took part on the day and thank you to all who helped organise the event in particular Nicola Lalor. Offaly Community Games would also like to say a big thank you to Dom and Mairead Slevin from Shinrone who gave freely of their time and equipment to ensure perfection with the sound and amplification on the day, so as to guarantee the children truly experienced the reality of the event.
Art and Model Making
The Marion Hall in Birr was a hive of activity on Sunday 6th February last with in the region of 100 children ranging in age from 6-16 from all over the county creating master pieces based on the theme of the HSE Community Games. The following are the results of the very high standard provided on the day.
Boys U8
1st Kalyum Scully, Daingean, 2nd Seán Delaney Shinrone, 3rd Darragh Flynn, Daingean.
Boys U10
1st Eoin Sweeney Kilcormac/Killoughey, 2nd Kieran Byrne, Gracefield/Walsh Island, 3rd Stephen Byren, Gracefield/Walsh Island and John Keeneghan, Mucklagh, Rahan, The Island.
Boys U12
1st Mark Hogan, Birr, 2nd Dermot Farell Rhode, 3rd James Larkin, Mucklagh, Rahan, The Island and Conor Swaine, Edenderry.
Boys U14
1st Ciaran Brazil, Brosna, 2nd Cian Maher, Shinrone/Coolderry, 3rd Cillian O'Brien, Daingean.
Boys U16
1st Tom Corcoran, Brosna
Girls U8
1st Saoirse Lalor, Shinrone/Coolderry, 2nd Ciara Ann Moll, Daingean, 3rd Ciara Heffernan, Mucklagh, Rahan, The Island and Emma Hanlon, Daingean
Girls U10
1st Grace Minnock, Mucklagh, Rahan, The Island, 2nd Aoibhe Flynn, Daingean, Michelle Corcoran, Brosna
Girls U12
1st Jasmin McCann, Rhode, 2nd Orla Marriott, Shinrone/Coolderry, 3rd Aoife Leonard, Mucklagh, Rahan, The Island, Laura Doherty, Mucklagh, Rahan, The Island
Girls U14
1st Ciara Murray, Birr, 2nd Katie Rabbitt, Daingean, 3rd Cara Todd, Daingean, Francis Hoara, Birr.
Model Making
Girls U12
1st Kate Lynch, Shinrone/Coolderry, 2nd Eve Masterson, Birr, 3rd Roisin Donovan, Birr
Girls U14
1st Rebecca Lynch, Shinrone, 2nd Orlaith Plunkett, Birr 3rd Jemma Nolan, Birr
Boys U12
1st Luke Barry, Birr
Boys U16
1st Jamie Dooran, Birr
A big congratulations to all the children who took part on the day, and thank you to our judges, anyone who helped out on the day and in particular Catherine Barry, Birr for her work in co-ordinating the event.
Indoor Soccer Action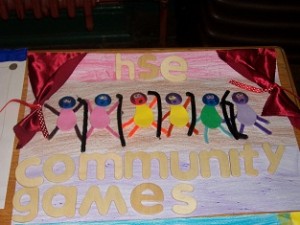 Ferbane was the venue for this years boys indoor soccer county finals, and in an event that saw teams from Killeigh, Daingean, Ferbane, Brosna, Rhode and Edenderry taking part there was plenty of talent on display. Daingean emerged as the U15 county champions and Brosna were the U13 victors.
The girls competition saw Rhode and Killeigh go head to head and Killeigh kept on the form of by gone years in their return to Offaly Community Games by coming out on top on the day.
Draughts
The county's draughts finals were recently held in Daingean and teams from both Daingean and Rhode will represent Offaly at Leinster level.
Exciting Times Ahead As Tullamore and Banagher are Once More Members of Offaly Community Games.
2011 keeps getting better for the faithful county and the conformation last week that both Tullamore and Banagher are once again to affiliate as members of Offaly Community Games put a smile on many a face of those involved in Community Games.
This news is the result of a lot of hard work by members of the Offaly County Executive and HSE Community Games development Officer Paul Friel, but this is only the start and we need to keep building to ensure a bright future of providing sporting and cultural activities for the children in their respective areas. If you or anyone you know is interested in helping out in anyway however big or small please feel free to contact any member of Offaly Community Games or by dropping us a comment on our facebook page.
Fixtures
The U14 county table quiz, projects and handwriting competition will all take place in Gallen Community School Ferbane on Thursday 17th next. And word is the every community gamers favourite furry blue owl Oltan the Mascot will be winging his way to Ferbane on the night so don't forget your cameras on the night.
Fixtures, venues and deadline dates are currently being set for all outdoor team events and a copy of the schedule will be forward to all area secretaries as soon as they are finalised..
Other News
We would like to wish all our competitors the very best of luck in their up coming events.
We would also like to say a big thank you to all those people who are giving freely of their time to coach and transport all those taking part in Offaly Community Games, the children are ready and willing to take part but without you the adults this is not possible and so we thank you.
Offaly Community Games has made a very positive start to this new year, participation numbers are increasing and this is very encouraging for our organisation your continued support is greatly appreciated.